>> France: La Plagne Tarentaise wishes to cooperate with Vietnam
>> The 2021 Vietnam Festival expected at La Plagne-Tarentaise in France
>> The sleeping beauty of Bao Dai mansion wakes up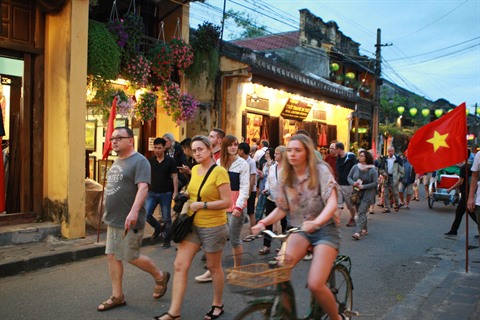 Foreign tourists visit the old town of Hoi An, Vietnam.
Photo: Quang Châu / CVN
Since March 17, 2020, Vietnamese borders remain closed to foreigners, except in exceptional cases. After 16 months without customers and without revenue, many tourist agencies, hotels and restaurants are closing one after the other. Tens of thousands of tourism workers are affected and many of them are unemployed.
Guides change jobs
The strengths of the guides are their knowledge of foreign languages, history and general culture. They are afraid of losing their values ​​if the restrictions persist. Faced with this situation, the young guide Nguyên Duc Hiêu Nhân therefore converted to teaching French. With 5 years of experience in the practice of French, he was able to quickly adapt to his new job. Although this job gives him a good income, he wishes to return to his first love. Nhân's colleagues have also retrained. They work on online educational sites. M. Nhân explains as follows: "The demand is very great. My goal is to train Vietnamese who will study and work in French-speaking countries or foreign students who are studying in Vietnam. For me, this job helps me not to forget my French as well as to introduce my country to travel enthusiasts.".
For his part, Tô Nhi Dai, another guide, launched a small family brand called BON in connection with his love for French. He makes homemade desserts like panna cotta or even yogurts. "I have been in contact with Europeans for many years and have also been influenced by their cuisine. So my products are of European quality but at Vietnamese prices", rejoices Dai."I don't make a lot of profit, but it's enough to temporarily support my little family in financial difficulty ", he admits. And of course, his love of tourism still remains intact.
Some agencies have their backs
Over the past two years, many travel agencies have gone out of business. However, Images Travel, one of the leading agencies in the French-speaking market in Vietnam, is trying to hold out until the country reopens. In May 2020, she turned to domestic tourism. Yet lacking prestige among Vietnamese customers, Images Travel must find other directions to develop. She has an opportunity with the Faculty of Tourism of Van Lang University who needs professional experiences in tourism to pass them on to their students. Thus, a trip for 300 people was made by the students, opening up new perspectives for the agency. Despite these few positive points, the 4e wave of contamination that could be fatal for many agencies.
Maintain links between tourism stakeholders
Despite the difficult situation in Vietnam, the recovery will be there one day.
To prepare for the resumption of tourism activities, Van Lang University, Images Travel and with the support of AUF (Agence universitaire de la Francophonie) organized a webinar entitled "French-speaking tourism market: from understanding to success".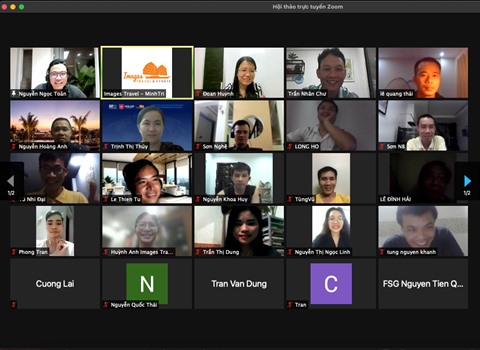 Webinar "Francophone tourism market: from understanding to success". Photo: Quang Châu / CVN
On this occasion, Michel Salün, president of the famous French tourist group bearing the same name, wanted to be reassuring: "We can estimate the end of the crisis at the end of 2021 thanks to the multiplication and generalization of vaccination and the establishment of the health passport". During this event, exchange sessions were held to share professional experiences benefiting professionals but also French-speaking students in Vietnam. Thanks to its influence, Images Travel invited French speakers as well as Vietnamese tourist guides. All this shows a real solidarity and generosity between the education sector and the tourism sector.
Mr. Salaün also shared an announcement from the French government on July 17 in which it is understood that people who have benefited from a complete vaccination schedule will no longer have to undergo constraints upon returning from a stay in the foreigner, regardless of the country of origin.
"Another reason to remain positive is that in France, tourist agencies have benefited from the mobilization and exceptional support of the State, which has enabled them to hold on while waiting for the end of the crisis. They are therefore always ready to send their clients to Vietnamese partner agencies. Finally, we can see that the French still want to travel and maybe even more today to forget about COVID!", he insisted.
The Salaün group reopened its travel agencies on May 19 and, between that date and the end of June, the latter made 85% of the business volume it did over the equivalent period in 2019 in terms of registrations, while the context is clearly less favorable. This is a very good signal for the future: "There is a real desire, a real need to escape", he emphasizes again.
In Vietnam, on July 22, an online conference for French-speaking tourism was organized by the Tourism Services of Dà Nang, Thua Thiên Huê, Quang Nam and Quang Binh. The purpose of this event was to promote tourism in these regions as well as prepare a reception plan for international tourists who have been vaccinated, in particular the French.
These first positive contacts are like a cool breeze chasing the dark clouds while waiting for a promising future!
What are the trends for tomorrow's travel?
Tourism will change drastically after the recovery. The habits and desires of travelers will be changed and new trends will emerge.
Chú thích ảnh
Ha Long Bay in Quang Ninh Province (North).
Photo: VNA / CVN
A study carried out in June 2021 shows that the holidays are the first pleasure that the French expect to rediscover! This is followed by dining out, shopping, entertainment and home improvement. It is interesting to note that of the interviewees:
– 17% plan to reduce their travel budget. These are the people who have the lowest incomes and who have been hit directly by the crisis.
– 44% intend to keep the same budget as before.
– And finally 39%, intend to spend more, those that we called in English the "revenge traveler". Those who are in a hurry: to leave as soon as possible!
Those "revenge traveler"are rather young (under 45) and do not necessarily have a high income, but they have the firm will to take full advantage of the world and what it has to offer!
Also according to this study, in the long term, around 75% of French people think they will adapt their travel habits and 3 major trends are starting to emerge:
– The pandemic is leaving its mark, but travel remains an important element for the French, who will no doubt travel less frequently and will book more at the last minute.
– There is an increased desire for peace of mind and vacations in nature, in the open air, which favors domestic destinations and private means of transport.
– Leisure travel will be impacted by hybrid working methods which will contribute to the democratization of Workation Holidays (a mixture of holidays and teleworking) and will allow longer stays to be considered.
These trends will encourage tour operators to adapt to attract the traveler of the future. For example, they must adapt their offer and their communication to the increased desire for peace of mind. The Salaün agency provides for example the creation of private and personalized formulas, circuits for small groups and for a younger clientele, family and "multigenerational".
It also seems essential that tour operators continue to develop their range of eco-friendly trips because customers are increasingly responsible for environmental issues. Salaün launched in 2020 a range of train journeys in the vein of slow tourism ("slow toutism") and he thinks he is developing this offer.
Even before the COVID crisis, we observed a change in our relationship to travel. A trend was emerging: moving less but closer, better and longer, quite the opposite of standardized long-distance stays. A trend towards slow tourism is emerging with a more ecological travel offer, with gentler, less polluting transport, which allows you to discover a region, a culture and meet the inhabitants.
Tour operators will therefore have to work on reducing their environmental footprint. Finally, on the sharing of experiences and forecasts on the recovery of tourism, guides and travel agencies will undoubtedly have to prepare their tours even better in order to stand out and attract customers.