Washington goes "reopen diplomatic channels of communication" with Palestine cut under the previous administration of Donald Trump, announced Thursday, March 25 the Ambassador of the United States to the United Nations, Linda Thomas-Greenfield, before the Security Council.
>> Palestinians file a complaint against the United States at the ICC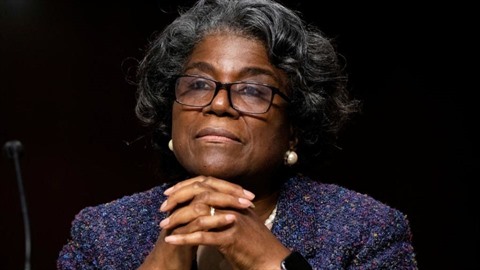 United States Ambassador to the United Nations Linda Thomas-Greenfield.
Photo: AFP / VNA / CVN
"Since January, our diplomatic engagement has been guided by the principle that lasting progress towards peace must be based on active consultations with both sides.US Ambassador to the United Nations Linda Thomas-Greenfield said during a videoconference Council meeting on the Israeli-Palestinian issue.
"To this end, our administration will take steps to reopen the diplomatic channels of communication that were interrupted during the last administration.", added the diplomat."Our commitments all have the same goal: to build support for a peaceful solution to the Israeli-Palestinian conflict.".
"Under the direction of the President (Joe) Biden, the United States has re-committed to the vision of a mutually agreed two-state solution, in which Israel lives in peace and security alongside a viable Palestinian state.", added Mme Thomas-Greenfield.
The Ambassador noted that the US president is restoring US aid programs that support economic development and humanitarian aid for the Palestinian people. Thus, 15 million USD will already be released for the "most vulnerable communities"in the West Bank and Gaza Strip," she said.

Xinhua / VNA / CVN