For my first article on this blog, I'm taking you to Quebec – and a bit to Canada – with a look at public programs to stimulate domestic tourism. Nothing revolutionary in principle, but it is an interesting first for us that deserves the sharing and monitoring of the preliminary impacts.
Even before the pandemic, destinations were already making efforts to stimulate domestic tourism; its importance for the regional economy is vital. Like everywhere else, Quebec has redirected its promotional investments towards Quebec customers. As part of a plan to revive tourism activity in the summer of 2020, the Quebec Ministry of Tourism implemented three programs last June to encourage Quebecers to plan stays in their province.
What can we say about their popularity so far and should we think about sustaining them beyond the pandemic?
The grouping of attractions
The Passport Attractions is an initiative to reduce the cost of access to tourist attractions in Quebec at the rate of a 20% discount on the purchase of a passport for two attractions, 30% for three attractions and 40% for four attractions . The government program compensates participating attractions for the consumer discount. Thus, the customer obtains a discount encouraging the purchase, but the company receives 100% of its admission fee. Its management has been entrusted to the Events Attractions Québec association, but it is the attraction managers who must come together to create a passport, have it approved and sell it directly on the online ticket office of one of them. (who becomes responsible for reporting sales and claiming compensation).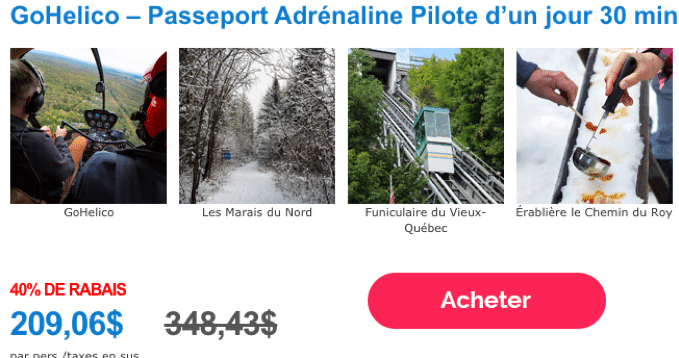 It only took three months to sell the initial compensation package of $ 5 million (more or less 3.4 million euros) thanks to the sale of more than 100,000 passports. Faced with this success, the Ministry of Tourism reinjected an additional $ 8.7 million last September. At that time, the expenses associated with this measure were estimated at $ 28.8 million. (Notice to Quebec readers, the program is still open and it's time to submit passport offers for the 2021 summer season!).
This measure has certainly had very positive impacts. If we estimate an average discount of 30%, the consumer will necessarily have paid the other 70%. Although certain attractions would have been visited without the presence of this program, traffic was certainly stimulated and other attractions forming part of the passport were thus discovered. According to the government's estimates of the associated expenses, the game was worth the candle.
The echoes we can hear from the managers seem to range from "good" to "fantastic", some having sold a very large number of passports, others much less. This program requires attraction managers, at least the leader of a passport, to have an online ticket office, which is not yet the case for everyone. The relevance of alliances between attractions, in other words the value created, is certainly a factor of success. A platform Web groups them all together, but more filters would be useful to me.
The question will be whether this program will last beyond the 2021 summer season as a tool for retaining Quebec clienteles when the borders reopen … As interesting for tourists as it is for encouraging locals to discover the attractions around their homes. (and to be better ambassadors of their destination), this partnership principle seems to me to be pursued. Is the prolonged involvement of public bodies essential beyond the revival of tourism? The return on investment seems, in any case, clearly favorable.
Quebec in packages
Explore Quebec on the road consists of financial support offered to travel agencies, tour operators and receivers for the creation of packages to the regions of Quebec, without air transport. Interested agencies must submit a proposal for a package of at least two nights to the Association des agencies receptives du Québec. The selected packages are offered to Quebecers with a reduction equivalent to 25% of the current sale price.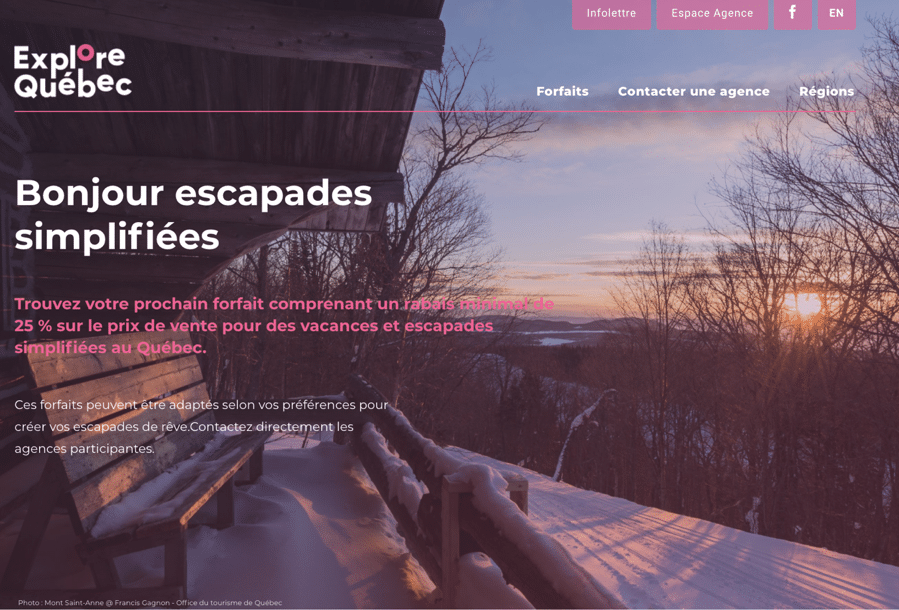 The distribution network – which has seen a 90% decrease in activity compared to 2019 – operates in a very different way and this program got off to a slower start. First, the creation of packages usually takes between 4 and 6 months and, although agencies have quickly managed to organize offers, their marketing during the summer did not correspond to the time of vacation planning for Quebecers. . In addition, the instruction not to carry out any tourist promotion does not make things easier, and in general, Quebecers are less used to dealing with an agency to book vacations in Quebec. Finally, this type of trip is often designed for groups, which was impossible last year, and will most likely be this summer too.
In September 2020, only 5% of the $ 10 million envelope had been spent, for 3,700 packages sold and spinoffs of $ 3.2 million. This data will certainly be completely different in the future since the agencies have had the time to create packages (more than 800) for this winter and this summer. Sales are apparently in full swing and Explore Quebec was already the most viewed web page on the provincial site Hello Quebec during the summer of 2020.
The financial benefits therefore remain to be specified, but positive impacts are already being felt:
The travel agencies and the FIT clientele finally meet;
The clientele of travel agencies who usually fly to sunny destinations are now offered offers in Quebec and are rediscovering the variety of packages (golf vacations, cycling vacations, cruises, etc.);
The measure demonstrated the ability of agencies to reinvent themselves and become B2C, thus retaining part of their expertise.
Although we want the program to soften slightly – for example, the obligation of a package of at least two nights does not meet the needs of Quebecers in urban regions – and that it reach a percentage of discounts equivalent to the Passport Attract, we hope that it will last. We also want it to apply to international travelers when they return home (fingers crossed) in the winter of 2021-2022.
National parks
A quick note on the third measure, the annual network map Sepaq, which consisted of granting a 50% discount on the annual access card to Quebec's 24 national parks for 12 months. The government envelope of $ 5 million was sold in 3 days, 143,000 cards were sold. Tourism expenses related to this program were estimated at $ 21.3 million. Access fees in Quebec's national parks can be a drag, especially if you have to add the cost of certain activities or equipment rental. In short, a discount is always welcome and 74% of cardholders were on their 1ster purchase of an annual Sépaq card. This measure will have made it possible in particular to introduce the network of parks to new clienteles.
Upstream
Quebec measures have the particularity of applying upstream of stays and not in the form of reimbursement after the stay or as a tax credit.
By comparison, among our neighbors in New Brunswick, the program Explore NB Travel Incentive allowed residents of the province to apply for a 20% reimbursement for eligible vacation expenses made in the province up to $ 1,000 during the summer. It seems to have worked well, more than 25,000 reimbursement requests have been made. The renewal of this program for the summer of 2021 was not confirmed at the time of this writing. The government is struggling to process the reimbursement requests received, only a quarter had been processed on January 13.
Elsewhere in Canada, no other program has been rolled out, but discussions about possible tax refunds are underway.
The Quebec approach "upstream" seems interesting to me since it encourages planning and reservation. If getaways and vacations or visits to one's own province were usually decided on at the last minute, the trend this spring is more towards reservations considering the experience of last year when many vacation spots were full.
All these beautiful people (re) discover the province and become better ambassadors
These boost to local tourism therefore appear to be beneficial. They have contributed to the mobilization of actors in the tourism industry, which has every reason to continue, and to the reappropriation of Quebec by Quebecers. The involvement – in its current form or another – of the Ministry of Tourism will remain a factor of success and economic benefits.
Encouraging domestic tourism, isn't that encouraging local purchasing and more sustainable consumption?