>> Overcome the pandemic and move towards economic recovery
>> After a year of pandemic, the response is being organized but the road still seems long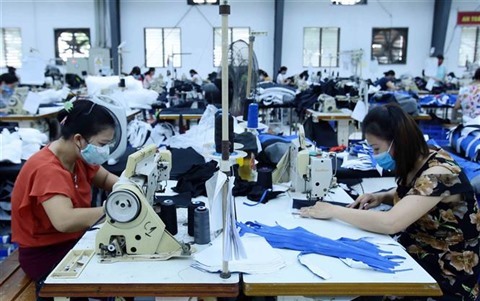 In the first quarter, the business environment continued to improve.
Photo: VNA / CVN
In the resolution, the government considered that in the context of the COVID-19 epidemic, with the active participation of the entire political system; the drastic leadership of the government; the efforts of all ministries, sectors and localities; the support of the business community and populations, the economic and social situation in the first quarter of 2021 had signs of recovery. The gross domestic product increased by 4.48%, industrial production, 6.5%, the agricultural sector, 3.16%,
The business environment continued to improve. In the first quarter, there were over 29,000 newly registered companies, with share capital increasing by 27.5%.
However, despite the control of the epidemic in the country, the global situation is still complicated, affecting the global economy and our main partners; thus affecting the implementation of the objectives and tasks of socio-economic development, in particular trade, services, transport, tourism.
So, the government asks the ministries, sectors and localities to continue their efforts to implement the "double objectives": control of the epidemic and economic development.
The Ministry of Health will focus on accelerating the development of vaccines in the country, in parallel with imports for the national immunization service, will cooperate with the ministries and departments concerned to study and soon promulgate the mechanism of the "vaccine passport" in order to to facilitate trade, investment and tourism.
The Ministry of Planning and Investment will continue efforts to eliminate difficulties in production and business; promote the disbursement of public investment capital in general and official development assistance projects in particular. The Ministry will complete the feasibility study report of the National Target Program for the Socio-Economic Development of Ethnic Minorities and Mountainous Areas for the period 2021-2025,
The State Bank of Vietnam will continue to effectively implement monetary policy; to control inflation; to promote the restructuring of credit institutions; to put in place measures to manage bad debts.
The Ministry of Culture, Sports and Tourism will propose solutions to encourage domestic tourism and prepare for the organization of SEA GAMES 31.
Relevant ministries, sectors and agencies will accelerate the improvement of the business investment environment; the reform of administrative formalities …

VNA / CVN