Visitors to Ninh Thuân (Center).
Photo: VNA / CVN
After a recent three-day trip to Dà Lat, Lâm Dông province in the Central Highlands, Ngoc Nhung, 26, living in the 10e district, Ho Chi Minh City, decided to go three days to Phu Yên (Center).
Responding to lots of comments from his friends on his Facebook page like "What happiness for you to travel so much!", Ngoc Nhung said she is planning another tour in Dak Lak (Central Highlands) within a few weeks.
Nhung says her parents live in Tây Ninh, near Ho Chi Minh City, and she goes there regularly to see them. Like every year, on the occasion of the Lunar New Year, his whole family travels together for five or six days. But this year, COIVD-19 forced to cancel the planned tour in the Northwest.
As soon as the pandemic was brought under control, she took her parents to most
from the southwestern provinces. And during the weekends, she visited with friends several tourist sites near her home.
"In this period, plane tickets are inexpensive, with many promotional programs. As a self-employed worker, I am free to travel whenever I want. Me and my friends travel with a backpack, which allows us to discover many interesting sites ", she shares.
Tourist guide of a group of 48 people going to Phu Quôc from March 16 to 19, Nguyên Minh Mân, head of the communication-marketing office of the tour operator TST Tourist, is delighted to see a large number of travelers to "the island pearls". Although it is not the peak tourist season, flights from Hanoi or Ho Chi Minh City are plentiful.
Nicknamed the "destination of the rich", the JW Marriott Phu Quoc Emerald Bay Resort & Spa is also attracting a lot of tourists, a sign that domestic tourism is starting to "heat up".
According to Doàn Thi Thanh Trà, director of the communication-marketing office of Saigontourist, "after a very quiet Tet holiday, customers began to search heavily for information about the tours."
Tourism players in the starting blocks
With tourist demand on the rise, airlines are also increasing their flights. Concretely, Vietnam Airlines, Pacific Airlines and VASCO have informed of the increase of several hundred flights on nearly 30 domestic routes, the addition of 280 to 400 flights per week with 56,000 to 80,000 seats. Mainly concerned are the big cities and the most famous tourist sites such as Ho Chi Minh City, Hanoi, Dà Nang, Quy Nhon, Dà Lat, Cam Ranh, Phu Quôc… Bamboo Airways has also opened 57 domestic routes.
Tourist sites are also gradually changing the way they attract customers through new attractive products and services, massive discounts.
Note that the Phu Quôc United Center entertainment and rest center should open its doors on April 21 in the north of the island. Covering an area of ​​1,000 ha, this complex required an investment of over 66,000 billion VND. A representative of the investor, Vingroup, expressed the hope that the Phu Quôc United Center will become the most attractive entertainment place in Vietnam, to make the island a new destination on the world tourist map.
Each year, Phu Quôc launches new attractive products. Thanks to the creativity of big investors like Vingroup and Sungroup, Phu Quôc continues to appear in the list of flagship destinations for this summer.
Likewise, the province of Quang Nam (Center) has also developed a plan for this summer, implemented in coordination with Dà Nang, Quang Ngai, Binh Dinh, Thua Thiên-Huê, Hanoi and Ho Chi Minh City, a certain number of cultural, sporting and tourist activities. In recent times, the ancient city of Hoi An has seen a marked increase in the number of travelers.
The 2021 season of maritime and island tourism in Quang Tri (Center) on the theme "The call of the sea", will be launched from April 30 to May 5 at the Cua Viêt Tourist Services Center, with many artistic programs and conferences aimed at enhanced cooperation for the development of tourism …
Target domestic tourism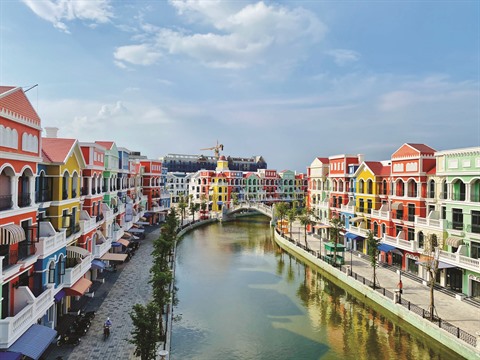 Center of entertainment and rest Phu Quôc United Center, in the north of the island of Phu Quôc, province of Kiên Giang (South).
Photo: Dô Hà / CVN
According to the Dr. Luong Hoài Nam, member of the Vietnam Tourism Advisory Council, in a country of nearly 100 million inhabitants where per capita income continues to grow, the domestic market has immense potential and must be the target in this period where international tourism is literally "frozen".
In 2019, more than 90 million Vietnamese traveled to their country. In 2020, they were 56 million, a decrease of more than 34% compared to the previous year, but it is nevertheless a rather remarkable figure given the effects of the health crisis.
"We must remain optimistic and confident in the future, act with sobriety so as not to suffer financial losses and maintain and develop cooperative relations in the service of recovery", says Mr Nam.
Before pointing out that "good control of the epidemic including the rapid detection and isolation of contaminated cases, domestic tourism will be able to revive. In the context of difficult international tourism, the development opportunities of the domestic market is high ".
In this period when the reopening of borders is long overdue, it is more than ever necessary to target domestic tourism. Luckily, internal demand is very strong, the Vietnamese being eager to escape and enrich their knowledge of their country, and will therefore hardly need to be stimulated.
This augurs well for a rapid and solid recovery of the sector, which will allow optimal reception of international tourists when they return to the country.