>> Mekong – Lancang: Thailand offers four approaches
>> Thailand focuses on developing the domestic tourism market
>> Thailand considers new quarantine plan for foreign tourists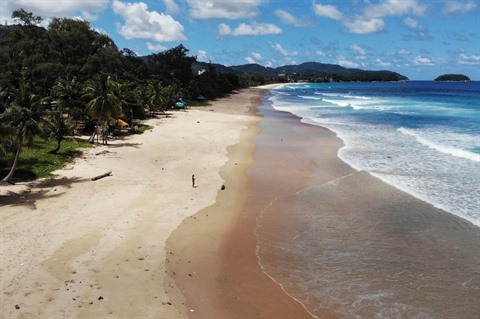 Karon Beach in Phuket, June 30. Photo: AFP / VNA / CVN
Tourism accounts for nearly a fifth of the kingdom's economy and before the crisis, around 40 million travelers traveled to Thailand each year.
Due to restrictions imposed by the COVID-19 pandemic, Thailand in 2020 recorded its worst economic performance since the Asian crisis of 1997.
Great hopes have been placed in what the government has dubbed the "phuket sandbox", a model that allows fully vaccinated travelers to stay on site without going through quarantine.
About 250 passengers were due to arrive on the tourist island on Thursday 1er July for the first day of its reopening aboard four flights, to enjoy the famous sandy beaches of Phuket almost deserted for over a year.
A first plane landed shortly after 11:00 local time (04:00 GMT) at Phuket airport from Abu Dhabi.
The arrivals come as the kingdom is currently trying to contain a third wave of coronavirus, the worst it has seen, by imposing restrictions in the capital Bangkok and its outskirts, which have seen the Alpha and Delta variants spread.
But Phuket remains relatively spared, as Thai authorities have launched a mass vaccination campaign to prepare for it and 70% of residents have received at least one dose.
Reopening of the country by October
L

he command center whose mission is to prevent any cluster risk in Phuket, June 30. Photo: AFP / VNA / CVN
A command center that monitors the movements of foreign visitors via a mobile application that tourists must install on their arrival, aims to prevent any risk of cluster.
Strict conditions are set for those who choose Phuket for their vacation. In addition to being vaccinated, only travelers from 66 countries, including France, considered to be low or medium risk, are eligible.
They will have to spend 14 days on the island before they can travel elsewhere in Thailand and will have to undergo three PCR tests during that time, an expense of several hundred dollars for a family.
"It's too heavy"said Kongsak Khoopongsakorn, president of the southern section of the Thailand Hotel Association.
He hopes some of the restrictions will be lifted by the 1er October, start of the tourist season in Thailand. If it's not the case, "we risk losing another season (…) It could be disastrous and doom many establishments never to reopen their doors.", he laments.
Kongsak added that the authorities had lowered their forecast for entry into the "sandbox", which was 129,000 visitors in the third quarter, to bring it down to 100,000.
After Phuket, where almost 90% of hotels had to close, the island of Koh Samui must reopen in July and the rest of the country by October.
But even a small number of visitors will be a lifeline for desperate vendors like Thewan Phromyang, who rents lounge chairs on Phuket's famous Patong Beach.
"I have virtually no income. We can only feed ourselves"Said the 49-year-old man.
Another major tourist hotspot in the region, Bali, had considered a reopening in July, but Indonesian authorities appear to have backed down as cases of the virus reach record levels in the Southeast Asian country.
Although Jakarta has not announced an official cancellation, comments this week by the tourism minister suggest that any attempt to welcome tourists again will likely be delayed until the surge in contaminations is over. stopped.