The number of international arrivals in the first four months of 2021 fell 98.2% year-over-year, according to the General Statistical Office (GSO).
>> April 30-May 1: domestic tourism comes alive
>> Solutions to stimulate tourism activities in Hanoi
>> The localities of the Center promote their tourism in Ho Chi Minh City
This decline was due to continued measures to prevent and control the COVID-19 pandemic, including the closure to international tourists.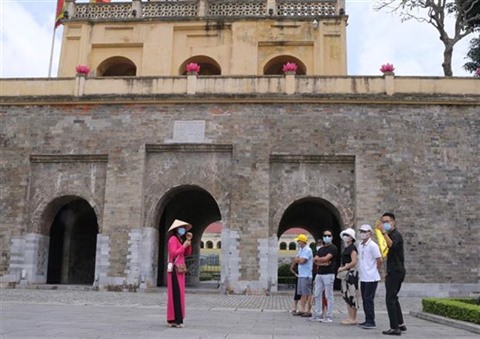 Tourists at the Imperial Citadel of Thang Long.
Photo: VNA / CVN
For this reason, the arrivals mainly concerned foreign experts and technicians working in projects in Vietnam. Tourism revenues are estimated at 4,000 billion, down 49.2% compared to the same period of 2020.
According to the National Tourism Administration, the public holidays from April 30 to May 3 on the occasion of the Liberation of the South (April 30) and World Labor Day (May 1) and the summer tourist season are approaching, the number of customers booking and traveling has increased significantly.
The National Tourism Administration has recommended that travel agencies prepare quality staff and services to meet the conditions prescribed by public agencies, as well as the demand of tourists.
VNA / CVN