>> COVID-19: Vietnamese tourism seeks to bounce back in 2021
>> Dà Nang revives nocturnal tourist activities on the Hàn river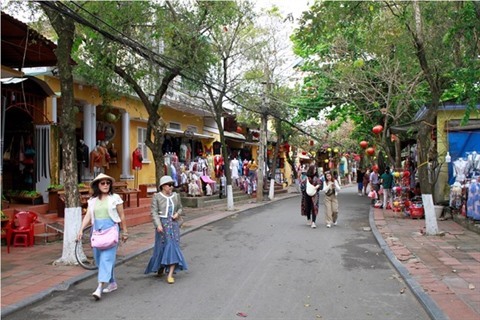 Vietnamese tourism hit hard by COVID-19.
Photo: NDEL / CVN
Tourism is the most affected sector. According to statistics released by the Vietnam Tourism Association, the country lost 23 billion USD in 2020 and welcomed only 3 million foreign visitors, a drop of 80%.
50 million Vietnamese have traveled within the country, half as many as in 2019. 90% of workers in the sector have lost their jobs and around 60% of companies have suspended their activities. Many hotels have had to close, their occupancy rate reaching only 10 or 15%. To face the crisis and not to sink, many companies have chosen to turn to the domestic market.
Lê Anh Dai, vice president of the Tourism Association of Lao Cai Province, explains: "The pandemic has forced professionals in the sector to show greater dynamism and more creativity. This break can also be an opportunity for them to review their strategy and unite to face the difficulties together.".
Nguyên Kim Oanh, director of the Binh Anh hotel, saw its turnover decrease by 80% in 2020. But paradoxically, it was during this difficult period that the hotel opted for a change of course: Attract Vietnamese tourists.
"We have increased advertising in the domestic market. Free stays, price reductions, gifts, etc., we do everything we can to attract domestic customers and rely on word of mouth. The occupancy rate of my hotel has improved".
Closed borders and disruption of supply chains have severely affected exports. The textile industry was very shaken and in 2020, the world textile and clothing market represented 640 billion USD, against 775 billion in 2019, a decrease of 20%.
To counteract the drastic drop in orders for jackets and shirts, Thân Duc Viêt, the general manager of textile company No. 10, has reconverted his business into the manufacture of protective masks and overcoats. Adapting his production to the needs of the domestic market was, according to him, a necessity.
"In 2020, we were able to open as we had planned 5 new stores in Vietnam. We have managed to maintain our turnover in 2020 thanks to the domestic market. In 2021, we will strive to increase our sales in the country by 20 to 30%".
Some companies in the agro-food sector have taken advantage of the epidemic to expand their activities and increase their exports. This is the case with the Hiên Lê group, which plans to build a new factory in 2021. Its CEO Nguyên Thi Bao Hiên explains: "In 2021, we will build a new factory with a capacity 7 times that of our current factory. It should be commissioned in 2022. We will also try to attract more investment in agriculture".
Vietnam Chamber of Commerce and Industry President Vu Tiên Lôc notes that 2020 has been a difficult year for Vietnamese businesses but the vast majority of them have been remarkably responsive. To enable them to conquer the domestic market, it offers: "Companies want the government to strengthen its international coordination to contain the epidemic in 2021. The development strategy of companies depends on the evolution of the pandemic and the government measures put in place. It is therefore essential to do everything possible to guarantee them a safe sanitary environment and conditions favorable to their proper functioning.".
To stay in the race in 2021, Vietnamese companies must invest heavily in research and development, improve the quality and competitiveness of their products and strengthen their supply chains.
VOV / VNA / CVN