How to save tourism following the health crisis? Hanoi and its tourism players have already prepared a recovery plan for 2021. The course is clearly set: the internal market!
>> Nearly 120,000 tourists in Hanoi during New Year's holidays
>> Hanoi strives to welcome 19 million visitors in 2021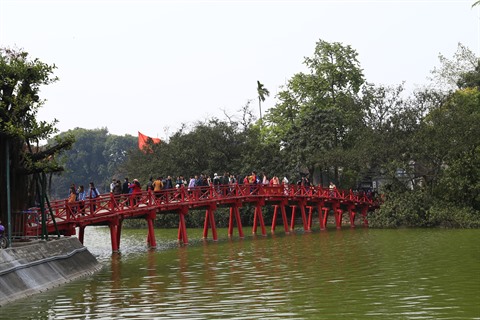 Tourists on Thê Huc Bridge, over Lake of the Restored Sword, Hanoi.
Photo: Linh Thao / CVN
The year 2020 will go down in history as one of the most catastrophic ever for the tourism sector.
For now, Hanoi, one of Vietnam's premier destinations, is organizing itself to appeal to domestic visitors. The emphasis is on heritage tourism, religious tourism, cultural discoveries, ecotourism and gastronomic tourism. According to Dang Huong Giang, director of the Municipal Tourism Service, the circuits will be rejuvenated to restore the taste of Hanoi and the desire to travel to Vietnamese tourists.
"It's a break that allows us to reorganize for a rapid recovery in 2021. We must diversify the destinations, train staff, strengthen communication campaigns … All players in the sector must get involved. Let's mobilize to relaunch Hanoi tourism this year!", she tells us.
The vice-president of the Hanoi People's Committee, Nguyên Manh Quyên, meanwhile pleaded for enhanced cooperation between Hanoi and the provinces surrounding it in order to diversify the offer. "Tourism is a flagship sector of Hanoi. The municipal tourism service must approach the players in the sector to save it. Everything must be done to enhance the attractiveness of the capital to domestic visitors.", he explains to us.
Hanoi has set itself the target of welcoming 13.16 to 19.04 million visitors in 2021, including 10.96 to 15.34 million domestic tourists, i.e. 70% of the number of tourists who came in 2019.
VOV / VNA / CVN