If the hammer falls here, it gets really expensive: Ferrari from the 1960s, preferably with racing history and a famous previous owner. But there are record classic cars that do not come from Maranello.
The list of the most expensive cars auctioned up to now is headed by a Ferrari that only changed hands at an auction last year: A Ferrari 250 GTO owned by former Microsoft chief developer Gregory Whitten was sold for $ 48.4 million. Phil Hill drove the racing GTO with chassis number 3413GT in tests in 1962, and Edoardo Lualdi-Gabardi won the hill climb championship with it. The third GTO ever built was auctioned by RM Sotheby's on August 24th and 25th in Monterey in the vicinity of the Concours d'Elegance in the posh golf club of Pebble Beach and the historic races on the Laguna Seca race track. An appropriate environment is helpful for a good price.
Fangio's Mercedes: $ 29.65 million
In total, seven of the ten most expensive auction cars are Ferraris. Racing history and a long-term previous ownership as well as at least one prominent driver are obviously part of the good form in this exclusive circle: When Juan Manuel Fangio was at the wheel, interested bidders also bid for a Mercedes in Ferrari price regions. Whereby such a W196 from 1954 inherently has the price-increasing factors of racing history and rarity anyway. The Silver Arrow fetched $ 29.65 million at a 2013 Bonhams auction. An Aston Martin DBR1, which RM Sotheby's auctioned in 2017, made it into the top ten as one of three non-Ferraris. The green-painted Brit reached a price of $ 22.55 million.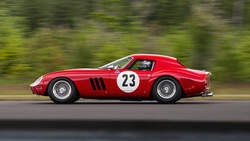 Auctions & events
Ferrari 250 GTO brings in 48.4 million

New record – the most expensive classic car auction in the world

read more
Gary Coopers Duesenberg: $ 22 million
A Duesenberg SSJ from 1935 that Gooding auctioned last year has nothing to do with sport. Still reached for several records: the most expensive Duesenberg, the most expensive car of an American brand, the most expensive car auctioned by Gooding to date: the glamorous prewar convertible brought in a whopping 22 million dollars. It was certainly helpful that one of the previous owners was Gary Cooper and that the SSJ with twin carburetor supercharged engine was only built twice. A Ferrari 290 MM would have been available for $ 5,000 more. But that's nothing special in this class.
The most expensive classic cars in the world
Conclusion
Rarity, racing history and prominent previous ownership are three factors that can increase the price of a classic car – especially rare cars that have been driven in big races or by real stars can cost millions. Some cars like the Ferrari 250 GTO even reach the value of famous paintings.
Interesting too
It will take you everywhere