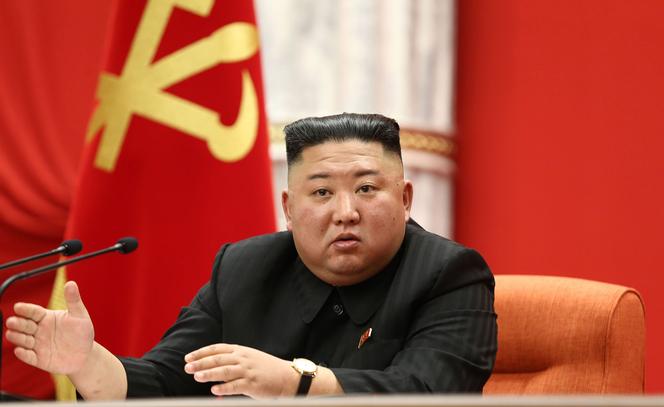 On the eve of President-elect Joe Biden taking office on January 20, 8e Labor Party Congress, which has been held in Pyongyang for a week, was an opportunity for leader Kim Jong-un to lay down from the outset the terms on which he intends to deal with the United States, described as "Greatest enemy" of the Democratic People's Republic of Korea (DPRK, the official name of North Korea). Without mentioning the name of the new US president, Kim Jong-un said: "No matter who is in power, the true nature of the United States and its policy towards the DPRK never changes. "
A rhetoric which, without being new, is Kim Jong-un's first message to the new US administration after the Trump years, which saw the leaders of the two enemy countries pass insults to handshakes, during three meetings with fanfare which brought a discredited regime back to the fore.
The message to Joe Biden is accompanied by the announcement of research, which has entered its final phase, for the construction by the DPRK of a nuclear submarine and the further strengthening of the country's nuclear and ballistic capabilities. With the launch in 2017 of three intercontinental missiles, North Korea has become a power with atomic and ballistic capabilities. Pyongyang believes that Washington will have to take this fait accompli into account.
"Respond to force with force"
The DPRK, which would have preferred the re-election of Donald Trump, with whom Kim Jong-un had a personal relationship, has hardly been talked about since the blasting in June of the building housing the inter-Korean liaison office in Kaesong (Korea). North). Due to the turmoil of the presidential campaign in the United States and the chaos that followed the election of Joe Biden, the North Korean regime has disappeared from the American radar. But since the failure of the summit in Hanoi in February 2019, Pyongyang has worked to strengthen its arsenal, as evidenced by the intercontinental missile of impressive dimensions exhibited on October 10, 2020 during the anniversary of the founding of the Labor Party. . The DPRK's mastery of missile re-entry technologies into the atmosphere, however, leaves experts skeptical.
Read also
Pyongyang plans to build a nuclear submarine against the United States, its "greatest enemy"
While saying "Ready to respond to force with force", Kim Jong-un did not close the door on diplomacy, promising to "Respond to goodwill with goodwill". He recalled the DPRK's position of principle: give and take, concession for concession and refusal of Washington's demand for prior denuclearization to then proceed to negotiations.
You have 53.23% of this article to read. The rest is for subscribers only.