It seems that a new wind is blowing in Wolfsburg. Until recently, the Germans stuck strictly to the principle that only the Volkswagen Golf was entitled to a sportier R version – with the exception of an occasional side step towards the Passat R36 and Touareg R50. – but they now follow the philosophy of high-end brands. All of them are launching M variants, AMG derivatives and RS versions of almost all of their models since it pays off.
It was not lost on Volkswagen. Last year, for example, they gave us the surprisingly nice T-Roc R, and now other R versions are appearing: with their mid-range facelift, the Arteon and this Tiguan not only received a hybrid version. Rechargeable, long awaited, but also an R version. The Touareg combines the two in one: the Touareg R is fitted with a power outlet as standard. We'll get back to you soon.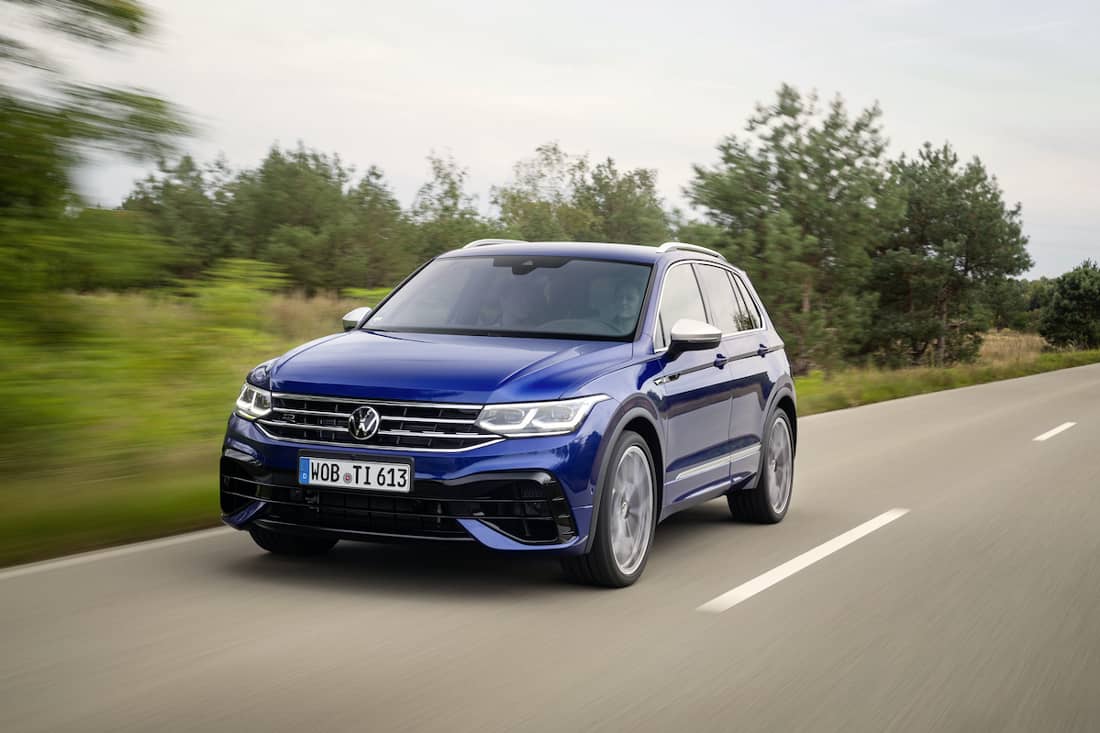 New sports outfit
For now, we'll stick with Volkswagen's other SUV, and one of the most popular vehicles in the lineup: the Tiguan. It received a facelift last summer: at the front, we discover new optical units, a different grille and the new Volkswagen logo. At the rear, the Tiguan now spells its name on the tailgate, although on this R version that name is replaced by the letter "R". The sporty version of course receives sharper bumpers, silver gray mirror caps and specific 20-inch rims. Black accents are also present on the bodywork, especially around the wheel arches and in the rear bumper. Here you can also choose an optional exhaust system from specialist Akrapovic.
Inside, the R version of the Tiguan also incorporates elements from the new Golf, including the steering wheel with new controls and tactile buttons for air conditioning. The R version adds specific sport seats and a more sporty look. Chassis modifications include more powerful brakes with blue calipers, an adaptive sport suspension lowered by 10mm and a new variant of the 4Motion all-wheel drive system that variably distributes torque between front and rear, as well as 'between the two rear wheels.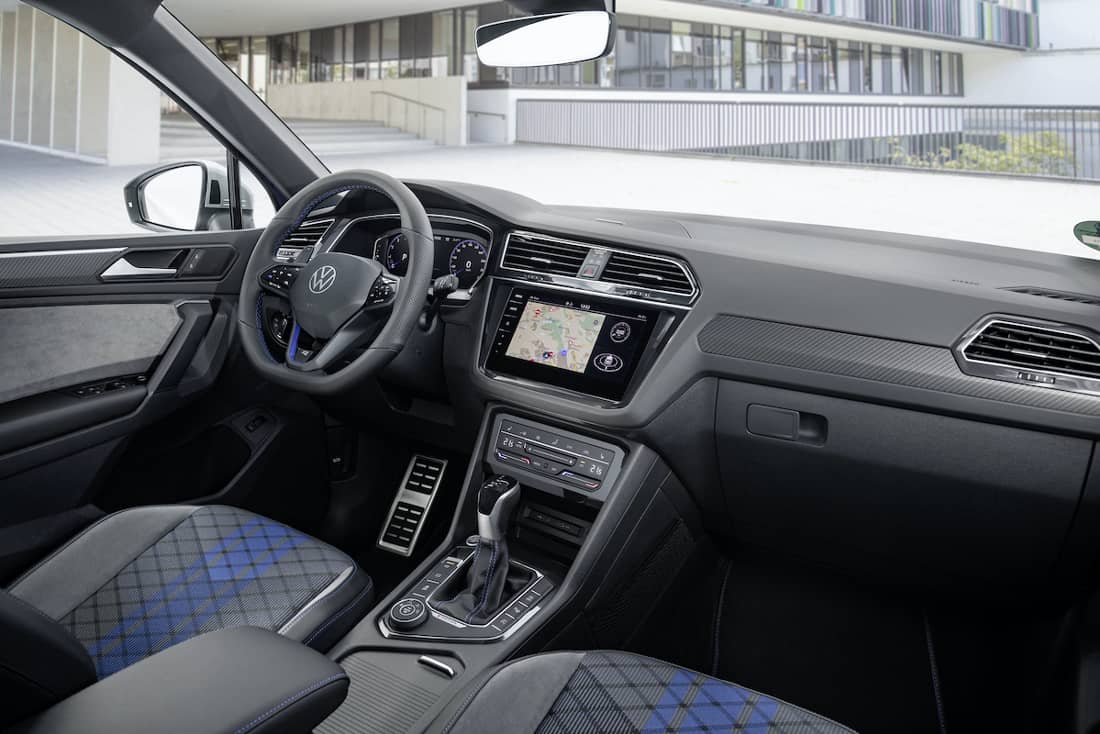 Mercilessly efficient
The downside of yet another new R version of 300 hp or more is that we can already predict what this sports treatment will give in practice. Under the hood is a variant of the 2.0-liter turbo 4-cylinder, already available on a whole range of Volkswagen sports products. Just to name a few: the VW Golf GTI, T-Roc R and Golf R; the Audi S3; the Cupra Leon, the Formentor and the Ateca. In this Tiguan R, the block with the internal code EA888 produces 320 hp and 420 Nm, and it channels that power through a DSG7 dual-clutch gearbox.
The result is therefore incredibly efficient: the Tiguan R reaches 100 km / h in 4.9 seconds and has no trouble showing great power at all times when you put it in drive mode " R ". Unfortunately, inside, it never really feels like you're giving the 320 horsepower a boost, and Volkswagen has had to artificially boost the soundtrack using the speakers. It's worrying…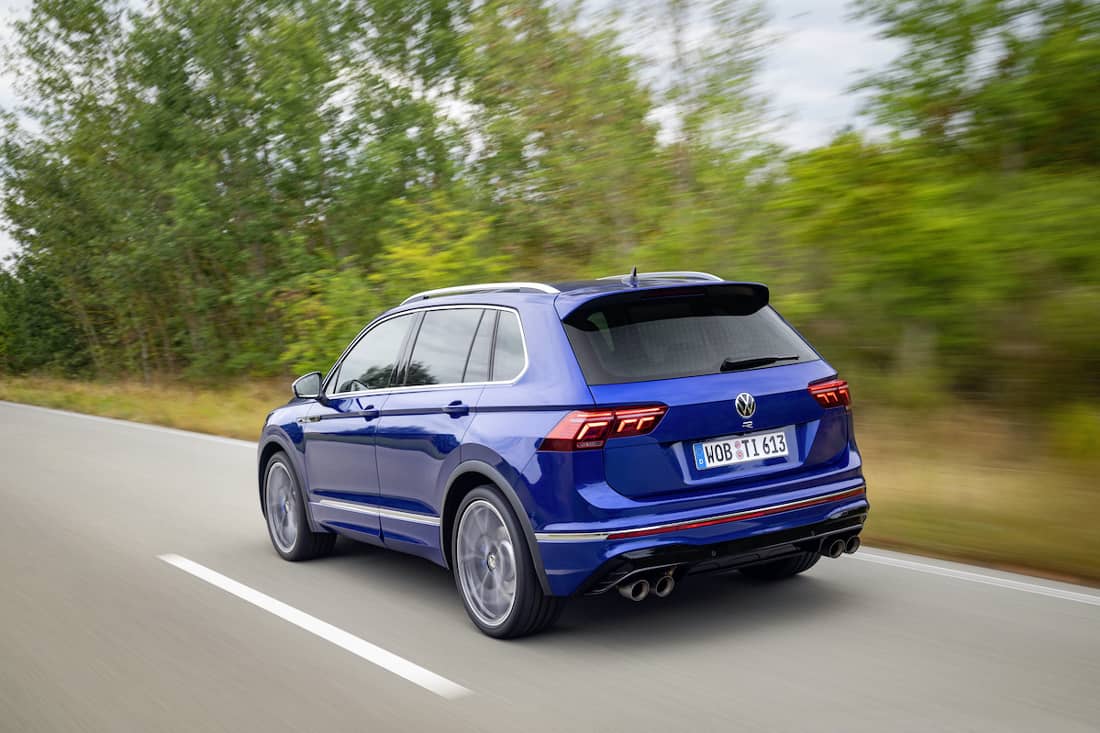 The Tiguan R also handles its relatively heavy weight of 1.75 tons well thanks to its well-adjusted suspension: the body sags little in a curve, while the comfort isn't too much – unless you opt for the oversized rims of 21 inches. The actual sharpness of a Golf R or the enthusiasm of the T-Roc R is less present in this Tiguan R, but it makes up for that with everyday ease of use – in Comfort driving mode – and plenty of usable space. .
Conclusion
Volkswagen is asking 61,160 euros for this Tiguan R (54,900 euros in France). A considerable price, especially if we know that his teammate Cupra asks almost 14,000 euros less for his Ateca (7,000 euros less in France). Admittedly, it is slightly smaller and has 20 less horsepower. The new Golf R does not yet have a station wagon version, although it would be a few thousand euros cheaper and at least just as practical.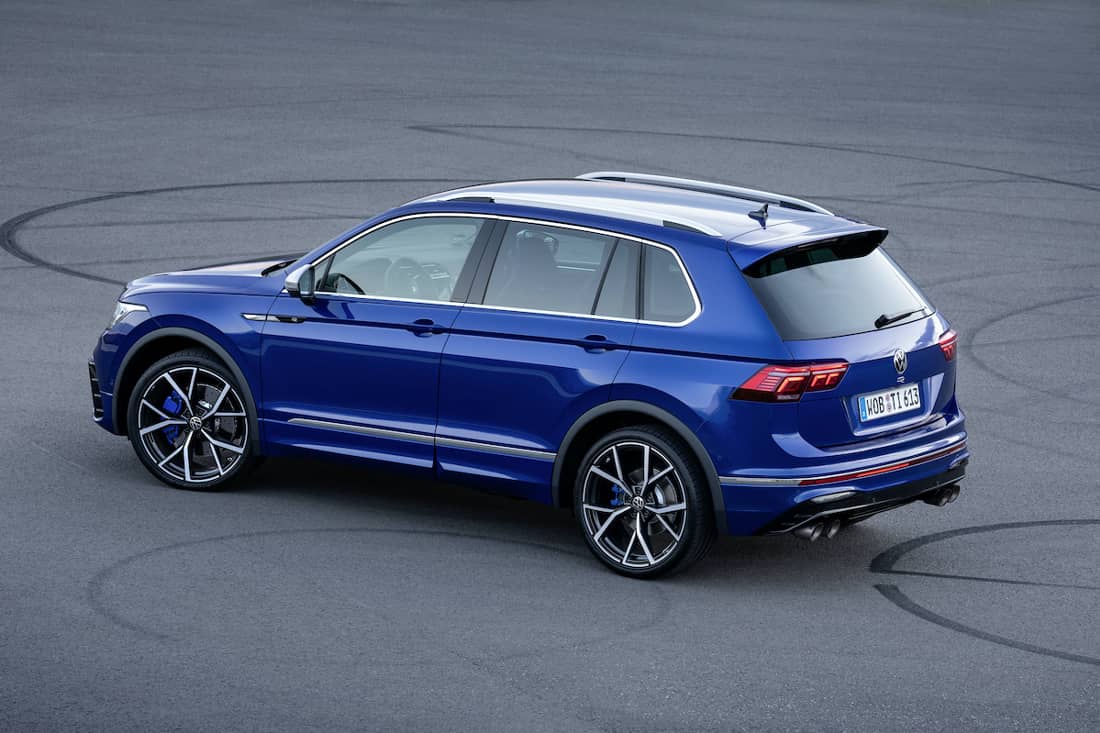 This does not change the fact that the Tiguan remains Volkswagen's most popular SUV and that this Tiguan R will undoubtedly find its audience. This one shouldn't expect a leggy Golf R – after all, it's still a rugged SUV – but rather a sporty Tiguan that can be comfortable while still being fast and efficient.