When Juliet Namujju was five years old, her parents were in a traffic accident. Her mother was killed and both of her father lost legs. From then on, Juliet lived with her grandmother, a seamstress. Again and again she experienced the difficulties her father had to overcome due to his disability, and how much people with disabilities are discriminated against.
As a child, the now 24-year-old struggled against the prejudices that her father faced because of his disability. As an adult, Juliet Namujju made it her mission to "change the way people think about people with disabilities. I grew up to fight against it," she says. Today the young fashion designer uses her bold clothing designs not only to help people with disabilities, but also to solve Uganda's garbage problem.
Sustainable fashion design right from the start
As a child, she made toys from leftovers from her grandmother's sewing bench, says Namujju. "I always collected everything quickly, [die Stoffreste] combined with plastic garbage, bottles and other plastic and then sewn small balls and dolls out of them to play with. "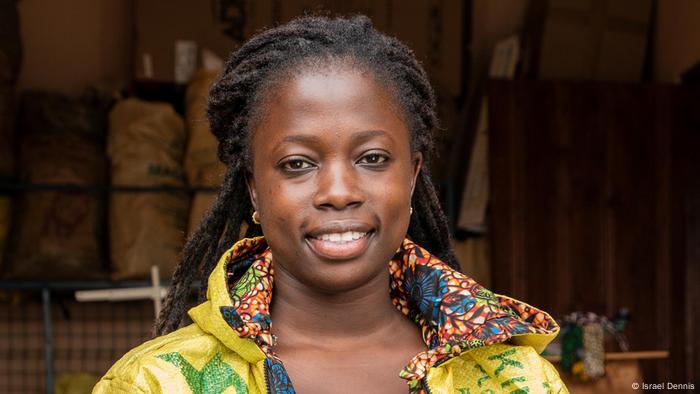 Juliet Namujju – with fashion against discrimination and Uganda's garbage problem
At the age of only 21, Namujju founded the fashion label Kimuli Fashionability. In her company in the central Ugandan town of Mpigi, she employs people with disabilities who use upcycling to transform plastic and other waste into spectacular clothing and accessories. The latest product: mouth and nose masks to protect against the coronavirus – and very special masks.
When the pandemic lockdown in Uganda dissolved in May and Namujju and her team were allowed to work in the workshop again, she discovered that the hearing impaired – around half of her 25 employees – had a problem: the protective masks that were used to protect against the spread of COVID -19, they prevented lip reading.
Corona masks for inclusion
"We sat down with some of the hearing impaired [und fragten uns]how we can make our mask stand out from others – a mask that also benefits people who cannot hear or speak. "
Namujju and her team developed a design in which a transparent window made of treated plastic waste is fitted into a mask made of fabric – usually cotton – and provided with an elastic band and a filter.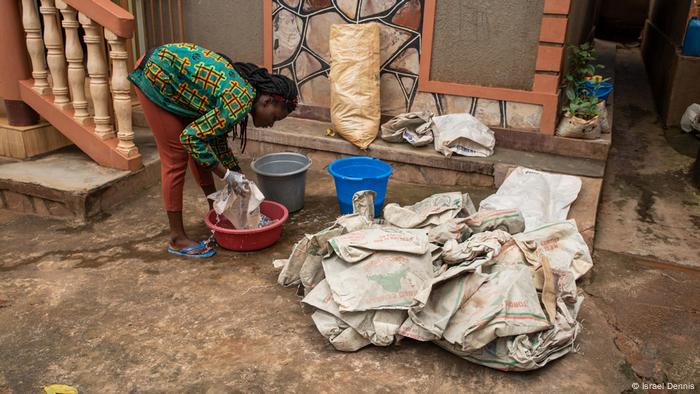 Zaharah Nabirye cleans plastic film that is later processed into fashion accessories such as shoulder bags
The viewing window often fogges up, reports Rose Nakangu, who is herself hearing impaired and works in mask production for Kimuli Fashionability. Still, it's a big improvement over the standard mask. The Kimuli masks are comfortable to wear and breathing is easy.
Since June, Kimuli Fashionability has sold more than 2000 of these lip-reading-friendly masks, including 600 pieces Diversability, a Los Angeles-based organization that supports the work of people with disabilities.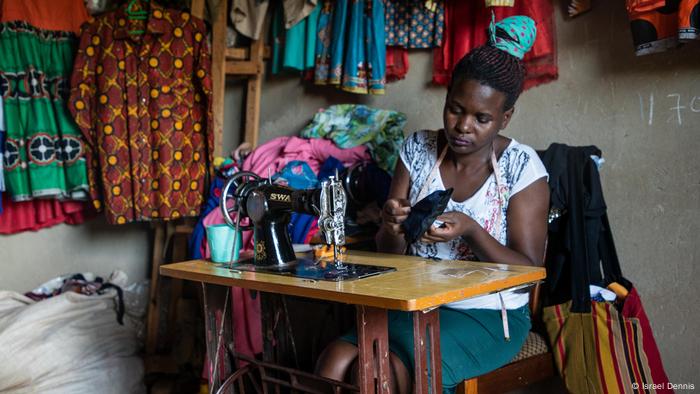 The hearing-impaired seamstress Rose Nakangu is working on a face mask from Kimuli Fashionability
And the team is highly motivated to keep up with demand. "I want to work hard so we can make and wear more of these clear masks [hörgeschädigte] Children can distribute, "says Agnes Nabagala, a single mother who is hearing impaired herself and who has been a seamstress at Kimuli Fashionability for three years.
Another look at plastic waste
Garbage is a big problem in Uganda. Much of it, including huge amounts of plastic, is improperly disposed of and piles up in the streets of cities like Mpigi.
Some of this garbage now gets Kimuli Fashionability through the Social Innovation Academy, a city social enterprise center that pays women to collect trash in the community. The garbage is cleaned and processed in the Kimuli sewing shop.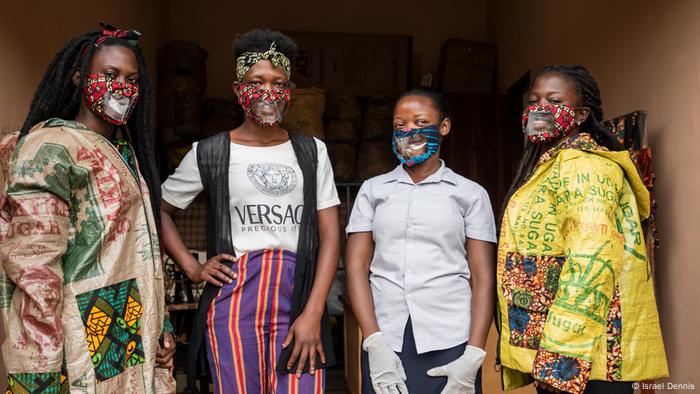 Many of Kimuli Fashionability's employees are people with disabilities, including the hearing-impaired tailors Agnes Nabagala (zvl) and Debroah Nakabira (dvl)
Kimuli means flower in the local language Luganda. "When I look at rubbish, I see something beautiful, like a flower," Namujju explains the name of her brand. But not everyone shares this view. Foreigners like to buy their designs, says Namujju. But it is difficult to convince Ugandans that what is discarded can be reborn as desirable fashion. "For many, it's always rubbish," she says.
Upcycling instead of waste
In 2019, Kimuli Fashionability organized a fashion show in Mpigi to enhance the image of clothes made from recycled materials and attract a local customer base. The young company hopes to be able to repeat the event this year – even if it has to take place virtually this time.
Namujju believes that garbage garments could actually reduce their country's waste problem if enough people were willing to wear them. "People from outside wear these jackets. But why not Ugandans? That really makes us sad," says Namujju. "We want 90 percent of Ugandans to wear these jackets, these masks, because I think that we can also reduce the plastic waste problem in Uganda with them."