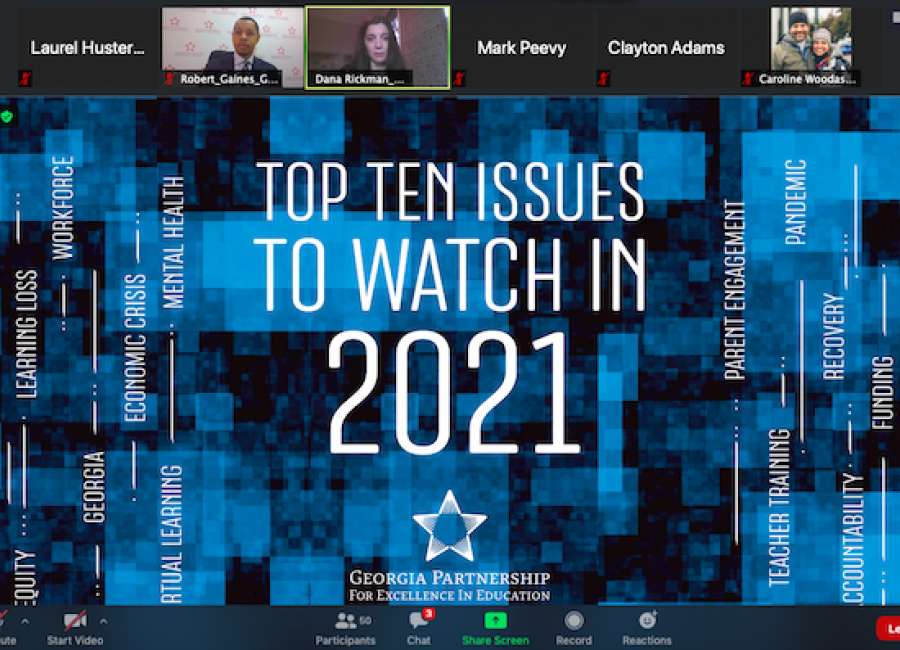 Laurel Huster / The Newnan Times-Herald
The Georgia Partnership for Excellence in Education released its annual "Top Ten Issues to Watch" list Friday.
Equity, delivery of instruction, parent engagement and post-secondary completion are among the top 10 education issues identified in Georgia for 2021.
The Georgia Partnership for Excellence in Education released its annual "Top Ten Issues to Watch" list Friday.
This is the 17th year the Partnership has published the report, which identifies and analyzes the key education issues Georgia will be or should be addressing in the coming year.
Each issue is divided into three sections: "Issue Overview," which defines the topic; "Significance for Georgia," which puts it into context; and "Action Steps for Georgia," which proposes what the state needs to do to keep moving forward in its public education plan.
The report is disseminated to Georgia legislators, school districts, and colleges and universities.
"Given the challenges of 2020, the Partnership team is especially proud of this year's Top Ten
report and we're grateful that for the last 17 years we've had the privilege of providing leaders in Georgia with a clear view of the most pressing education issues in the state," said Dr. Steve
Dolinger, president of the Georgia Partnership.
The top 10 issues identified for education in Georgia in 2021 are:
Equity – the imperative for recovery to success
Funding – essential for achieving equity
Early learning – the foundation for an inclusive economic recovery
Delivery of instruction – new approaches to learning
Teachers – professionalism, pay and preparation
Accountability and assessments – the opportunity to rethink and get it right
Parent engagement – positioning families as partners
Post-secondary completion – a pathway to prosperity
Georgia's workforce pipeline – creating equitable access and opportunities
Reinventing education in Georgia – a call for leadership and collaboration
The report is available in hard copy and online. The Georgia Partnership will provide a free copy upon request by emailing [email protected] . Postage reimbursement will be required for greater quantities. The Top Ten can be downloaded on the Partnership's website at www.gpee.org .