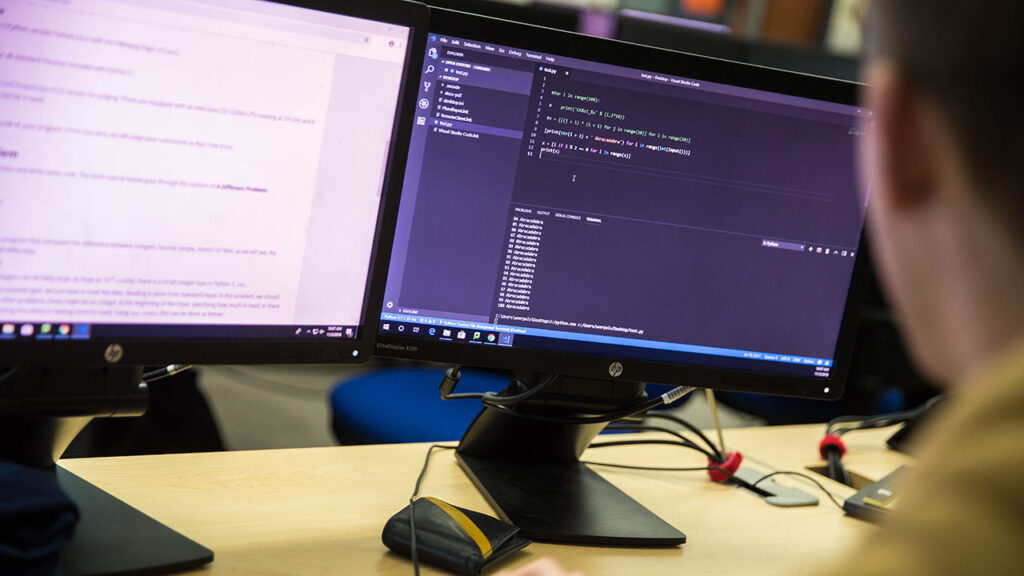 Responding to the increasing demand for computing skills in the workforce — in both technical and non-technical professions alike — the University of Wisconsin-Platteville is rolling out a new Computer Science + X degree program, giving students more flexibility to pursue majors they are passionate about while acquiring in-demand computer skills. The CS+X degree is an interdisciplinary major that combines a core curriculum in computer science with most of the major requirements for another chosen discipline. Available degrees for fall 2021 include a Bachelor of Science in CS + Business and a Bachelor of Science in CS + Supply Chain Management.
"Traditionally, computer science departments have trained students to work in the tech industry," said Dr. Afzal Upal, professor and chair of the UW-Platteville Department of Computer Science and Software Engineering. "A consequence of the adoption of computing technology in every field of life is that computing skills are increasingly being demanded by employers, even from employees who work in non-technical professions."
Upal said a number of studies point toward the growing demand for computational skills in all professions, including a recent Singapore study, conducted by Emsi and Burning Glass Technologies, that found 70% of the fastest-growing skills and 26% of the highest-paying skills are computer science-related.
"Employers increasingly want employees who have the knowledge of computing as well as the knowledge of the application field so that they can hit the ground running rather than learning on the job," said Upal. "Think of a genetic sequencing company that wants to hire employees who possess computing knowledge – of computer programming, artificial intelligence and machine learning – but also genetics and biology. Or a digital forensics company that wants investigators who can procure legal evidence from computers, cell phones and iPads in such a way that it is admissible in the court of law. Such students need both cybersecurity skills as well as criminal justice and forensics skills."
More than 30 industry advisory board members from the computing field supported and confirmed the need for development of this new program. While the program is launching this fall with business and supply chain management, additional areas are be considered for a future rollout, including computational biology, digital humanities, chemistry, history, philosophy, and a cybersecurity + criminal justice and forensics program.
"Traditionally, students have had to choose between following their heart's desire to pursue something, such as music, that they're passionate about or being more practical and thinking about pursuing a major that will get them a job after graduation," said Upal. "Our CS+X programs allow students to pursue their passion in arts, music, dance, philosophy, social science or humanities, while also acquiring computing skills needed to find a job after graduation."
For more information on the program, visit www.uwplatt.edu/program/computer-science-x.
Written by Alison Parkins