[ad_1]

Social media site TikTok is now one of the biggest homes for cars and car enthusiasts. The network still features dancing teens, trick shots, makeup tutorials and commentary, but there are now millions of followers for certain brands, cars and car presenters.
Insurance purveyor Confused.com dug into the data to find the most popular of them all, including the most searched for videos and presenters. Surprisingly, the car with the most views isn't a Chevrolet Corvette and the brand isn't Ferrari or Lamborghini.
"TikTok has taken the motor industry by storm, with thousands of car-related videos uploaded every day. Users can be seen showcasing anything from new cars on the market to car washing tips, piquing the interest of car lovers around the world," said Alex Kindred, car insurance expert at Confused.com in a press release.
"With TikTok being such an inspirational platform, the latest model shared on the feed of a popular motoring TikToker may just influence users to upgrade their car to the most recent model."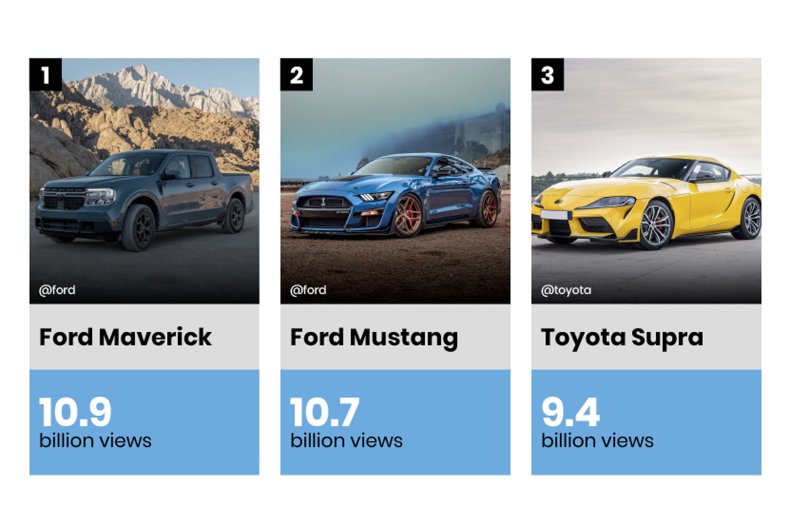 Most of the top ten most popular car models are expected. The Ford Mustang lands at number two with 10.7 billion TikTok views, followed by the Toyota Supra (9.4B), Nissan GT-R (8.4B) and Honda Civic (4.1B). Lamborghini did make the list at number 10, behind the Subaru WRX at number eight. But the winner, made more surprising by its newness, is the Ford Maverick with 10.9 billion views.
The Maverick went on sale last year as Ford's new small pickup truck, evoking the sizes and efficiencies of the small trucks of the 1990s. It offers both front-wheel drive and a hybrid powertrain, two things trucks haven't been traditionally known for.
TikTok metrics analyzed by Statista put the most of the more than 1 billion users in the 18-24 age range at about 20 percent. The second most is 25-34 at about 16 percent.
Usage drops as ages grow, meaning many of the young users are much more likely to be in the market for a $21,000 Ford Maverick as opposed to a $240,000 Lamborghini.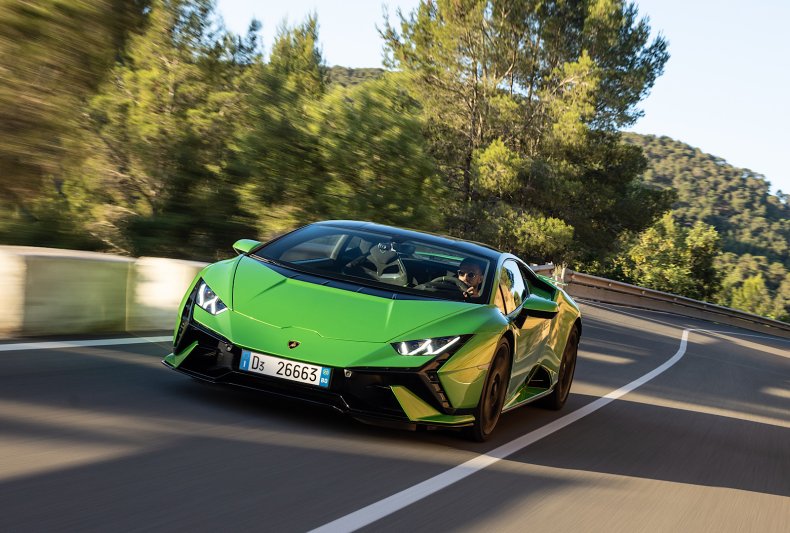 However, when broken down by brands, a different picture emerges.
In that battle, the German luxury makers take the top three spots with BMW garnering a total of 49.2 billion views, Mercedes with 27.1 billion and Audi with 20.4 billion. Honda tied Audi and is followed by Ford at fifth. The study notes that the most viewed BMW is the high-performance M5 sedan.
Like Twitter, TikTok influencers are judged (and paid) by their number of followers. These numbers aren't as big as the blue check site, but still impressive with Daniel Mac retaining 12.6 million loyal folks. His schtick is asking drivers of expensive cars what they do for a living. In one clip he finds a Lamborghini Aventador driven by a 93-year-old woman.
Alex Hirschi, better known as Supercar Blondie, comes next with 10.6 million followers. She's one of the few females in the space and is based in Dubai, though she hails from Australia. One of her specialties is walkarounds with concept cars like the Audi Grand Sphere.
In third place is Dima Gordey with 5.1 million followers on TikTok and 621,000 more on YouTube. Gordey focuses on luxury and sports cars like BMWs, Mercedes and Lamborghini.
The social media, micro-video giant TikTok is now another good way to get information before you buy a new car. And if it's a Maverick or a Mustang a buyer is looking for, there are plenty of options.
[ad_2]

Source link