Community

Boston.com readers recommended 99 spots to enjoy the best lobster rolls across Massachusetts. Here are the top 5.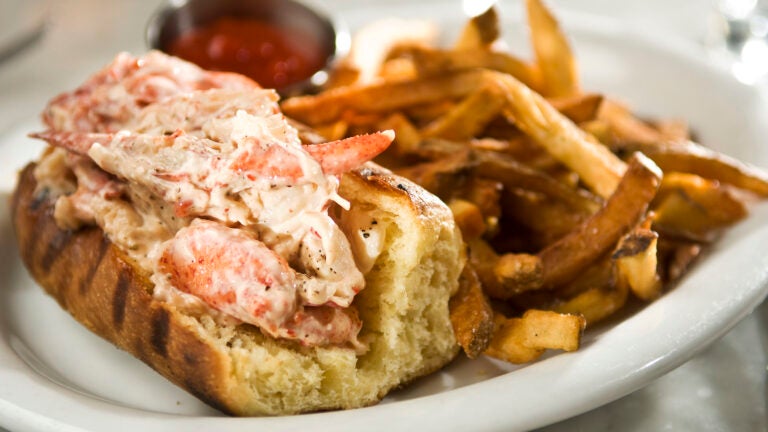 Who makes the best lobster roll in Massachusetts?
We asked readers this question last week and received a wave of passionate responses. More than 330 readers responded to our survey providing nearly 100 spots to get the best lobster roll across Massachusetts.
There were some strong opinions, too, like whether a simple lobster roll beats out a too complicated one, and which parts of a lobster are the best for such a dish. There was also a heated debate over the temperature which it should be served.
The majority of Boston.com's survey respondents (48 percent) prefer a cold lobster roll with just the right amount of mayo over a hot one any day. Twenty-eight percent prefer both, and 24 percent prefer only hot, buttered lobster rolls.
Do you prefer a hot or cold lobster roll?
Our readers had so many different recommendations that we mapped out all 99 spots for the best lobster rolls across Massachusetts. We received recommendations to well-known Boston seafood spots, grocery stores like Star Market and Market Basket for an affordable roll, and places like the Clam Shack in Salem or the Lookout Tavern in Oak Bluffs for a lobster roll with ocean views.
Below are the top five restaurants that received the most votes for best lobster rolls, and a map of all 99 locations across Massachusetts. 
Readers praised this small but charming North End raw bar. Whether you're a fan of a cold roll or a hot roll, our readers say they make the best of either. The restaurant is typically packed, but well worth the wait. Readers said not only does the flavor exceed their lobster roll expectations, but the size of the lobster in each bite is enough to blow you back into the ocean. "All you need is hot butter, lobster, and a roll. Lobster is a delicate flavor so mayo, bacon, etc. will destroy it. Best in the city," Chad from the West End wrote.
This next contender is a cash-only Winthrop gem serving up gigantic lobster rolls according to our readers. In 2012, owner Jim Costin moved the business from their original East Boston 883-square-foot space to their current 5,000-square-foot industrial location. Even the late Anthony Bourdain praised this restaurant's focus on fresh and tasty seafood. Drew from Reading worded it best, "If you're not getting your lobster roll from here then you've lost at life! Most lobster on a roll ever! Hands down the best. It's not loaded with all that lettuce you really don't want. It's not over mayo'd! Or if you want butter, it's perfect. If you haven't tried it then you can't respond to this article!"
This family-owned seafood restaurant has served Boston locals and tourists since 1925. Located on Boston's downtown waterfront, readers say their lobster rolls are the best in the city and applaud the freshness of the seafood.  "Lobsters that were swimming in frigid water yesterday are in the lobster rolls today. The bread for the large rolls is custom-made for them and is truly perfect. No fillers such as celery and lettuce," August West from Boston wrote.
Our readers were pretty spot on with this recommendation. Boston magazine just gave this swanky eatery the title of best lobster roll in its annual Best of Boston list. Their hot lobster roll combines heaping portions of lobster meat caught by chef Jermey Sewall's cousin, a Maine lobsterman, with warm butter and sea salt. While their cold lobster roll is served with light mayo and pickles for a refreshing and tangy taste. "Row 34 has the best hot butter lobster roll. It's a decent amount of lobster, no frills, and the brioche bun toasted is to die for. Definitely my favorite," Sandra from Jamaica Plain wrote.
Well, this one is technically a sandwich, not a roll, but we can look past that. This hidden spot in Cambridge serves fresh lobster served on toasted white bread with just enough mayo to make a creamy base, and seems to be a fan favorite. "I think it is often overlooked on these lists, because it isn't a roll, it is on toasted white bread. However, it is perfection, and should not be ignored," Kevin from Malden wrote.
Other honorable mentions include Alcove and Luke's Lobster in Boston, the Raw Bar at Popponesset Marketplace in Mashpee, and the Take Away in Norwood.
Check out all 99 recommended locations that serve the best lobster rolls in Massachusetts in our interactive map below.
Newsletter Signup
Stay up to date on all the latest news from Boston.com