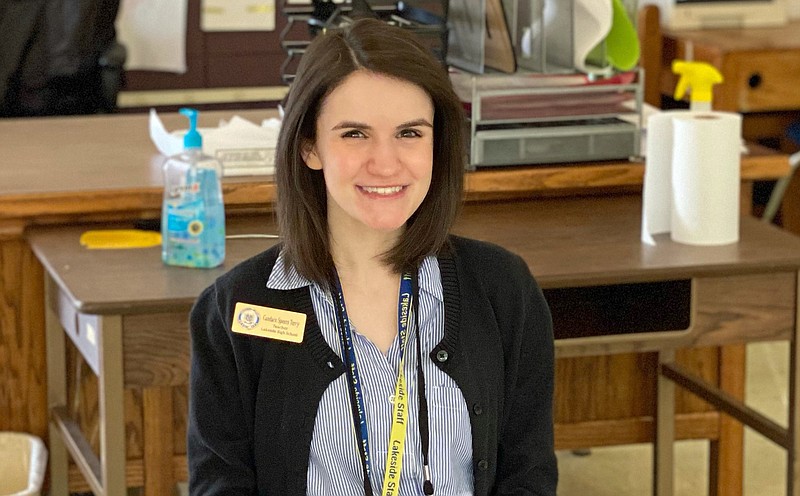 Candance Speers-Terry, a Lakeside School District advanced placement computer science teacher, said she is excited the school received a female diversity award and that more young women are getting involved in computer science. – Photo by John Anderson of The Sentinel-Record
Lakeside High School was one of 56 schools nationwide that received recognition last month for "closing the gender gap" and expanding young women's access to computer science coursework, according to a news release and a school official.
Lakeside received the Computer Science Female Diversity Award from the nonprofit organization College Board for closing the gap in two courses, AP Computer Science Principles and AP Computer Science A. Only 56 of the 1,119 schools recognized by College Board were recognized in both areas.
According to the release, the College Board on Jan. 25 recognized 1,119 schools nationwide for "achieving either 50% or higher female examinee representation in one or both AP computer science courses, or a percentage of the female computer science examinees meeting or exceeding that of the school's female population, during the 2019-20 school year."
Video not playing? Click here https://www.youtube.com/embed/ZuAlftBWvZs
"One of the reasons why I'm excited is because when I was in college, I was the only female or one of very few" in computer science, said Candance Speers-Terry, a Lakeside School District advanced placement computer science teacher.
"It was rare to have 10% of the people in there be females," she said. "Now that I'm a teacher, I have my own classes. I'm really excited that we have 50-50 of boys and girls."
Speers-Terry said she was also excited so many females are interested in computer science, noting she believes part of the reasoning is due to the culture around STEM is changing.
"It's not really any just one thing that I think led to this, but a mixture of the culture changing," Speers-Terry said.
"Lakeside is very pro academic excellence and encourages students to take AP classes. We have a lot of AP classes. It's very common," she said.
College Board wants to encourage all students to get involved in computer science, which is a growing field.
"We need more people that are at least mildly aware of this kind of content," Speers-Terry said.
"They are trying to put more people in it. They noticed, and other people noticed that a lot of the girls kind of fell at the wayside and weren't really involved," she said.
"I'm glad that the culture seems to be changing. The College Board is wanting to honor schools that open more opportunities for girls. I believe the wording was 'increased access to more young females' in this area in AP and computer science," Speers-Terry said.
She said she thinks it's "cool" more girls can get into this field and are interested in it, noting she has seen girls get involved who weren't identifying themselves as "computer nerds."
"They are still finding success in this class. They may have to work hard at it, but they're still able to do it," Speers-Terry said.
Sponsor Content
Comments