The neighbors will be approached, said Xherdan Shaqiri's representative yesterday when there was an explosion over the Giant hut of the football crack came in Rheinfelden AG.
The previous decent single-family house is to give way to a gigantic palace with lots of glass, concrete and swimming pool – with use of the area up to the pain threshold.
What the Shaqiri man means is what his client offers as compensation. You can always talk.
The excitement surrounding the "palace" of the national hero joins other pompous "stories". Tennis ace Roger Federer's villa on the shores of Lake Zurich is also met with incomprehension.
Too big and no more access to the lake for normal people, it sounds there.
In the same area, on the right bank of the lake, banker Ulrich Körner's new building caused a stir years ago. His house boasted a garage for his impressive fleet of classic cars and sports sledges.
Or Tidjane Thiam's "little house" in Herrliberg, the famous place on Zurich's Gold Coast, where SVP tycoon Christoph Blocher is enthroned at the top.
As soon as Thiam was at the helm at CS, a big home story with the new homeowner appeared in Blick. He had taken over the property from an ex-consultant in the Swissair case.
Now the building is empty. Despite sales efforts. According to look seems to have shown no interest in Thiam's old abode so far – at least not at the asking price.
Perhaps it is also due to the spy crime thriller about Thiam, which had ignited on his home. Thiam's former direct subordinate, Iqbal Khan, bought a plot of land right next to his boss.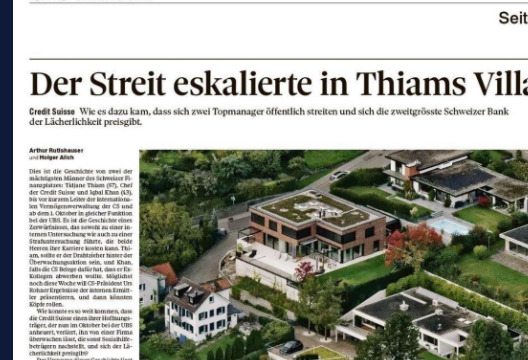 And padded there – it couldn't be more beautiful. A real bunker, right in front of the home of his commander. That got Thiam down the wrong way. He compressed Khan, who ran to the police. The rest is history.
The powerful old people of Zurich built even more modestly. Martin Ebner, who set the pace on the Swiss stock exchange in the 1990s, retired to the Seedamm between Pfäffikon SZ and Rapperswil SG. The property looks modest.
But tax-efficient. Long-term Swiss Re captain Walter Kielholz was once asked why he wasn't moving to Schwyz's tax paradise. Who would want to live in a shadowy hole, said the Zurich citizen.
Ralph Hamers, the new CEO of UBS, elected Zug as his abode. That made headlines because Zug is also attractive to millionaires. But Hamers does not speak of a palace.
As little as with Axel Lehmann, the flying UBS-CS top jumper. Whose domicile – on the Zurich Gold Coast, where else? – materialized without wild headlines.