The Steve McQueen-917 currently bears the title of the most expensive Porsche sold. Still. A luxury dealer now wants to win the crown with a 911 GT1.
E.t are spheres in which the average car buyer only moves in the wildest dreams. When double-digit million sums are required for a vehicle, the customer base melts like linen in a 90-degree wash. There was such a case in 2017. Back then, the Porsche 917K that Steve McQueen drove in the film "Le Mans" was auctioned for a whopping 14 million dollars (around 11.9 million euros) in Pebble Beach. A record for a sports car from Zuffenhausen to this day, but the title seems to be in danger because a new player has entered the stage.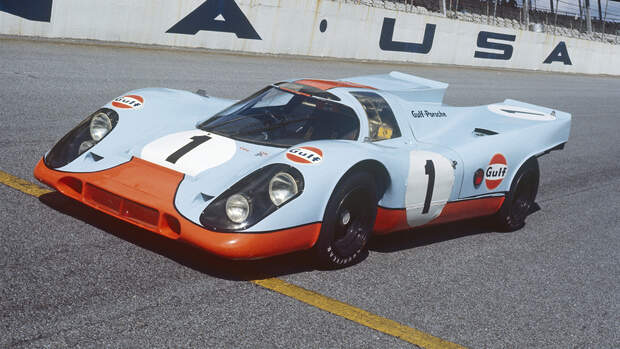 Luxury dealer James Edition currently has a Porsche on offer for 12.3 million euros. It is a street version of the 911 GT1. To understand: Between the 917K and the GT1 there is a sum that you can park a brand new Rolls-Royce Phantom in the driveway. However, given the amounts we are talking about, that does not matter that much.
Actually not a 911
Contrary to what its name suggests, such a 911 GT1 is actually not a 911. The racing car designed for Le Mans is not based on a production model from Porsche, but was only built in a limited edition (24 pieces) as a homologation model with road approval. Instead of an air-cooled unit in the rear, a water-cooled mid-engine provides propulsion. This pumps 544 hp from the double-charged 3.2-liter six-cylinder boxer. Another difference can be found when looking at the body. What is meant is not the shape, but the material, because the GT1 is made of CFRP, while the "real" 911 (993) is made of hot-dip galvanized sheet steel.
What the sports car dealer is doing here is, however, a bit misleading because the title is "1998 Porsche 911 GT1". However, the only 1998 model ever built is in the Porsche Museum. Accordingly, the vehicle on offer is likely to be a 1997 model, which was first delivered and registered in 1998. Is that how you want to justify the immense price? Possibly, because other copies of the GT1 sold for far less. A million dollar price tag sticks to everyone, but the last 911 GT1 brought in "only" 5.7 million dollars on Amelia Island.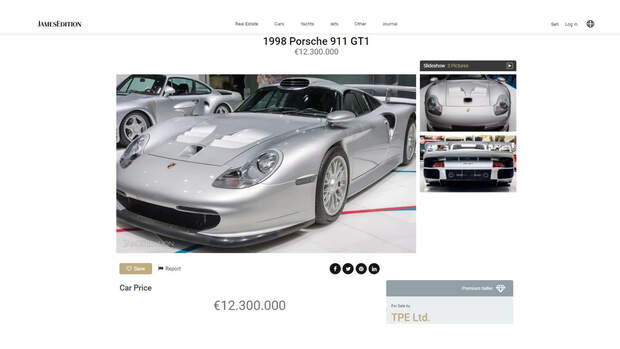 Even if the mileage of the 12.3 million euro used car is only around 1,000 kilometers, it looks more like the seller simply wants to win the title of the most expensive Zuffenhausener sold. Well, now experienced dealers know that a lunatic gets up every day – you just have to find him. But even for such an exclusive model, the price increase of around 7.5 million euros within a few years seems a bit oversized. Even the most insane customer should have an extra thick board in front of their heads. As long as nobody can find one who fits this description, the 917K remains the most expensive model.
Conclusion
If you want something to count, rarely do yourself. If you need more fire, make it expensive. It seems that sales of the 911 GT1 are based on this motto. Will there be anyone? Maybe when money really doesn't matter. After all, the chance to buy a GT1 is very rare.