The 2021 NFL draft is just a week away. There are still plenty of question marks surrounding the top 10 picks, and most of them revolve around the talented quarterbacks at the top of the board. We know Trevor Lawrence is going No. 1, and we're almost positive Zach Wilson will follow him at No. 2. We also know the San Francisco 49ers will select a quarterback at No. 3, but which one will it be?
Justin Fields, the skilled QB out of Ohio State, is one of the names in play for the 49ers at three, but he might start slipping on draft boards after revealing to NFL teams that he's managing epilepsy.
Justin Fields has been managing epilepsy since he was a child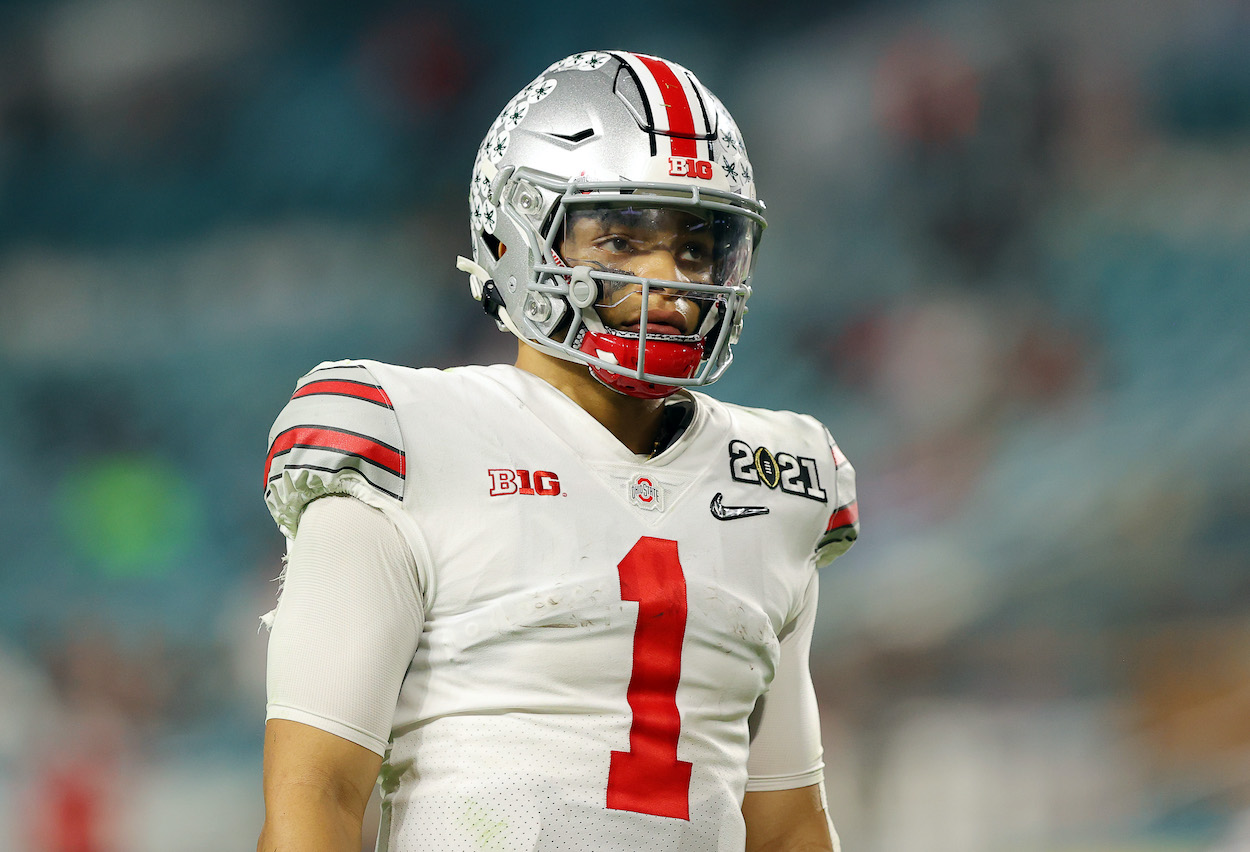 RELATED: NFL Draft Trivia: Which Team Has Made the First Overall Pick the Most Times?
A week ahead of the 2021 NFL draft, star quarterback prospect Justin Fields made a shocking revelation about his health. According to Ian Rapoport and Tom Pelissero of NFL Network, Fields has informed teams that he is managing epilepsy.
Epilepsy is a neurological disorder that can cause unpredictable seizures and other health problems. Fields has been managing the disorder since he was a child, but you wouldn't even know it from watching him on the field at Ohio State.
In two years with the Buckeyes, Fields threw for over 5,300 yards with 63 touchdown passes and just nine interceptions. He also rushed for 867 yards and 15 touchdowns. He's poised to be one of the first names called in the NFL draft next Thursday night.
Epilepsy shouldn't scare NFL teams away from Fields
RELATED: When Did the New Orleans Saints Last Select a Quarterback in the NFL Draft?
Epilepsy didn't stop Fields from becoming a five-star recruit in high school. It didn't stop him from becoming a Heisman candidate in college and leading Ohio State to the College Football Playoff National Championship game.
It won't stop him from becoming a star in the NFL.
According to Rapoport and Pelissero, Fields' symptoms from his epilepsy have gotten shorter and less frequent over the years. The disorder hasn't affected his football career to this point, and doctors are confident he will grow out of it. Fields doesn't even have seizures anymore as long as he takes his medication.
It's tough to tell how this will affect Fields' draft stock, but his ex-head coach believes it shouldn't at all.
Justin Fields' coach comes to his defense
RELATED: NFL Draft Trivia: Which Teams Have Picked the Most Quarterbacks in the First Round?
After the news of Fields' health condition surfaced, fans and media pundits were quick to tank his draft stock. NFL teams drafting inside the top 10 do everything they can to avoid unnecessary risk, and selecting a quarterback with epilepsy would break all the typical rules.
But Fields' head coach at Ohio State, Ryan Day, quickly came to his defense and ensured teams his disorder won't be an issue at the next level.
"Justin's health, toughness and work ethic have never been an issue and I am incredibly proud of his professionalism and the character he displays on and off the field," Day wrote in a tweet Wednesday. "The fact that he never missed a game at Ohio State speaks volumes about how he takes care of himself."
Where does Fields eventually end up on April 29?