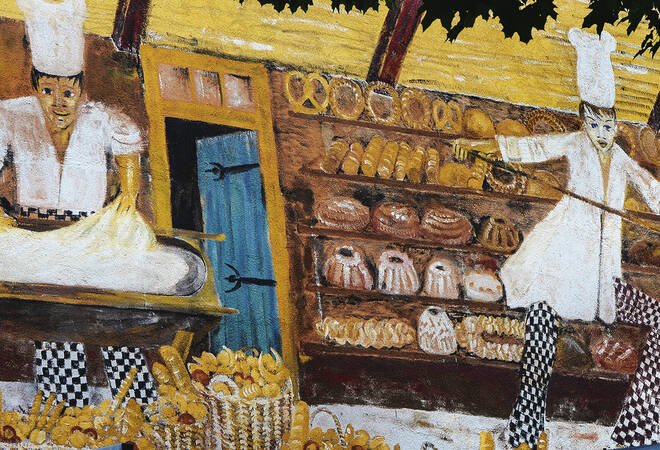 From Manfred Bechtel
Heidelberg. He sold his pictures on the Heidelberg market square. At that time he was well known in the city; but three decades after he was killed in a traffic accident, few will remember the today Painter Rainer Motz, called Munke (1934-1990), remember. His works are scattered all over the world, when households were closed, pictures were already put in the bulky waste.
That the bizarre artist is not completely forgotten is that Art historian Dr. Hans-Jürgen Kotzur a concern. He met Munke in the late 1970s during his studies, wanted to help him on the way to become known, and at the time planned to write something about him. For professional reasons, it was many years before Kotzur published two books about the artist. Now he surrendered to that Heidelberg City Archives five folders with documents from his possession and those of the family. It contains a press review, introductory speeches and invitation cards from various galleries in which Munke exhibited; he himself wrote almost nothing.
Most important, however, is the catalog of works with photos. "Either you forget it, and that's it, or you save something for posterity," said Kotzur at the handover. "But I hope that one day the public will rediscover him!" Dr. Peter Blum, director of the city archive, thanked Kotzur when he received the documentation. "You have processed what is somehow there, although the artist has left no real estate." It is probably the only source of his work and gives researchers the opportunity to research.
"Munke is now not a star with a big name, but it was known regionally," the art historian reminds the idiosyncratic artist, "and there are really good works among them. But the artist colleagues didn't take him seriously, they did Wrinkled nose: He still paints representationally! " Munke was largely self-taught, he had learned upholstery and decorator, decorative elements are often reflected in his work. He developed his own distinctive style, sticking with it from beginning to end. The macabre keeps coming out, the alcoholic had ghostly apparitions. "They took it from him," says Kotzur, "and he had the guts to translate into pictures what he had experienced in his world."
Figures from fairy tales and myths appear, ghosts and little hunchbacked men cavorted. "He knew well that no one was interested in his art at the time of the student revolts, when new social models were being discussed," remembers Kotzur, "he didn't sell very much as a result!" Anyone who still collected Munke loved him because he took the viewer into his fantasy world. "I don't know of any comparable artist in Germany. He was a neo-romantic; that's why he fits in with Heidelberg," the art historian says. On the other hand: "Such a neo-romantic had it a bit difficult in the time of the student unrest," says city archivist Blum.
Munkes second home was that "Weinloch"in the Unteren Strasse, where Kotzur made his acquaintance. There, too, the themes of the 68ers determined the evenings. That was not Munkes' business. When he had enough of the intellectual disputes, he spoke up in his broad Electoral Palatinate:" So folks , you can discuss until tomorrow morning, now have a drink and sing a nice song! "
"What did you think of these pictures?", He was asked once by two well-off women at the opening of his exhibition. Answer: "Nothing. I paint my pictures because I enjoy painting and depict what is going through my head." Unfortunately, the art lovers didn't stop there, instead demanding a "formal aesthetic analysis" of his work from the artist. That was too much for Munke. He fled outside, smoked one cigarette after the other in the street and waited until the event was over. He has sold next to nothing.
Munke was at home in old Rohrbach, where his works can still not be overlooked today: he painted houses long before facade painting became fashionable again. The Gothic scene with its black-clad figures also has early models in its macabre pictures. He had a thieving joy in the appearance of mostly friendly ghosts: "He still painted a ghost somewhere," says Kotzur. "Where pictures hang in the apartments, the children ask: Grandpa, what kind of male is that in the picture?"
Info: For further reading: Hans-Jürgen Kotzur (ed.): The world of images of the Heidelberg painter Rainer Motz – Munke, Heidelberg 2018, series of publications by Heidelberg-Rohrbach Local History Museum. Hans-Jürgen Kotzur: Myth Munke. From the life of the Heidelberg painter Rainer Motz – Munke. Heidelberg 2018, series of publications by the Heimatmuseum Heidelberg-Rohrbach.