President Donald Trump said he will be "pursuing" an executive order in the next two weeks requiring health insurance companies to cover pre-existing conditions for all customers.
"That's a big thing," Trump told reporters Friday in Bedminster, N.J. "We have to cover pre-existing conditions. This has never been done before but it's time the people of our country are properly represented and properly taken care of."
The Affordable Care Act, which the White House is vying to strike down in court, protects patients with pre-existing conditions. The president has long promised, but never delivered, a comprehensive health plan that may replace Obamacare. Last month, Trump pledged a full health plan that was supposed to have arrived at the start of last week, but it did not.
Trump has regularly committed to protecting people with pre-existing conditions, without saying how—a promise at odds with his administration and Republicans' efforts to invalidate the Affordable Care Act. Read more from Justin Sink.
Trump Signs Virus Relief Orders as Talks Fail: Trump in a memorandum on Saturday instructed the deferral of payroll tax collections for some workers. The taxes are paid by both employees and their employers, and fund Social Security and Medicare for those already using those programs, Bloomberg News reports.
But because congressional approval is needed to enact changes in federal levies, the amounts foregone under the order will still come due next year, unless legislators act.
Initial reaction reinforced the message that both Democrats and Republicans had sent the White House during the talks on a coronavirus relief package that collapsed on Friday: don't do it. Underlying that opposition is concern that hurting the finances of the massive programs that pay retirement and health care benefits for the aged, along with disability income, will be punished by voters.
Stimulus Update: Standoff on Virus Relief Package Leaves Damage All Around
More Coverage of Relief Talks:
Azar Arrives in Taiwan
On the most senior visit by an American official in more than four decades, Health and Human Services Secretary Alex Azar hailed Taiwan's democracy and praised President Tsai Ing-wen's response to the pandemic in comments likely to stoke tensions with China.
"It is a true honor to be here to convey a message of strong support and friendship from President Trump to Taiwan," Azar said when meeting Tsai in prepared remarks. He called Taiwan's democracy "an inspiration to the region and the world" and said he wanted to use the visit "to learn about how our shared democratic values have driven success in health."
Azar later witnessed the signing of a memorandum of understanding that called for strengthening cooperation on global health security and developing vaccines — the first such agreement between U.S. and Taiwanese health authorities. He said that the U.S. would remain the largest funder of public health even after Trump's decision to withdraw from the World Health Organization.
"We will of course talk to Taiwan and other entities as we go forward," he added. Read more from Samson Ellis and Cindy Wang. Read more from Samson Ellis and Cindy Wang.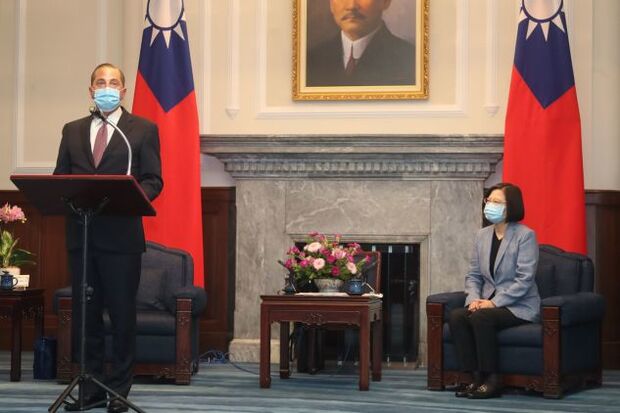 The Coronavirus Pandemic
U.S. Passes 5 Million Cases: Covid-19 cases in the U.S. crossed 5 million, adding a million cases in just over two weeks, according to data from Johns Hopkins University. The U.S., which has the most case numbers in the world, hit 4 million cases on July 23, amid a skyrocketing outbreak in the Sunbelt and political fights over the Trump administration's handling of the virus response. Daily numbers are down from recent peaks. Total deaths were over 162,000 as of yesterday. Read more.
Pentagon's Vaccine Duties Draw Scrutiny: Senate Democrats are demanding that the U.S. Centers for Disease Control and Prevention, not the Department of Defense, be in charge of distributing an eventual Covid-19 vaccine. "Though it is long overdue, the Trump Administration should immediately place public health experts in charge of these critical steps," Health, Education, Labor, and Pensions ranking member Patty Murray (D-Wash.) and Sen. Jack Reed (D-R.I.) wrote in a letter to HHS Secretary Alex Azar and Defense Secretary Mark Esper.
Kids Rarely Hospitalized, but Numbers Are Growing: Children with Covid-19 are hospitalized infrequently compared to adults, but that rate has been rising and about a third of those hospitalized in a subset of a federal study published Friday needed intensive care. The study by the CDC analyzed pediatric hospitalization data for 576 cases across 14 states. It found about eight children are hospitalized for every 100,000 infected, compared with more than 164 adults per 100,000.
Between March and July, hospitalization rates of children increased steadily, with Black and Latino children hospitalized at a higher rate. Among 208 children who were hospitalized and have complete medical chart reviews, one third were admitted to an intensive care unit. One died and 12 needed invasive ventilation. Read more from Kristen V. Brown.
The report comes as Trump has pushed for schools to reopen across the U.S., and many large districts have pushed back. Last week, in calling for schools to reopen, the president falsely asserted in a Fox News interview that children are "almost immune from this disease."
Meanwhile, schools are stockpiling face masks, hand sanitizer and plexiglass shields, racking up bills that may top $100 billion to protect children in their physical classrooms in the fall or to help them learn from home. It will cost the average district an estimated $1.77 million in new disinfecting expenses, cleaning equipment and additional workers to be able to open schools, two school administration groups said. Read more from Michelle Kaske.
New York City's public schools will open in-person classes this fall, Gov.

Andrew Cuomo

(D) announced, paving a road for the district to become the only major U.S. system to open its doors in spite of mounting fear among teachers, administrators, and parents. Parents had hours to decide whether to opt out and start the year with all-virtual classes. Keshia Clukey and Henry Goldman have more.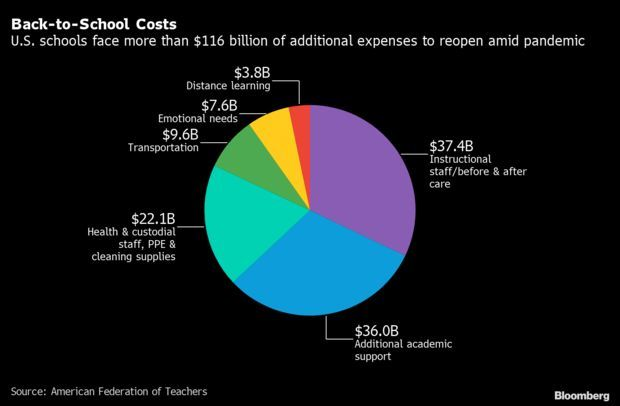 Nursing Homes to Get Another $5 Billion: U.S. nursing homes will get another $5 billion in federal pandemic aid funding, the Trump administration announced Friday. Part of the money will go only to facilities that meet certain performance-based metrics, unlike prior distributions from the Congress-approved pandemic relief fund. Facilities will be evaluated based on the local Covid-19 infection rate and the nursing home's ability to minimize cases and fatalities among residents. Read more from Tony Pugh.
Aid Didn't Meet Health Provider Needs, Study Says: The distribution of relief didn't match the needs of the health care facilities responding to the pandemic, a JAMA study found. Harvard University, University of Chicago and University of California, Berkeley, analyzed $175 billion in reimbursement distributed under the CARES Act and Paycheck Protection Program. They said the most important factor driving funding allocation was past revenue, resulting in allocations that were largely unrelated to health or financial needs.
Disproportionately Black communities received the same level of relief funding as counties with less health and financial need, which researchers said suggests the relief money allocation may have a "disparate impact" on Black populations. "Policy makers should consider aligning funding with measures of need rather than revenue, which would increase both equity and economic efficiency," the researchers wrote, Jeannie Baumann reports. Find the study here.
U.S. Backsliding on Vaccine Confidence: The U.S. has been "backsliding" on vaccine confidence for years, to the point where "we almost lost our measles eradication status last year," according to Surgeon General Jerome Adams on SiriusXM. It's a warning sign during the search for a Covid-19 vaccine, he said. Without a high enough level of compliance, "it doesn't matter how effective or how safe this vaccine," he said. Read more.
Dems Decry Unaccompanied Children Deported Under Virus Order: Sens. Kamala Harris (D-Calif.), Jacky Rosen (D-Nev.) and 26 other Democrats wrote to the head of U.S. Customs and Border Protection with concerns the agency has deported through early June more than 2,000 unaccompanied migrant children under the public healthy interim rule issued by the CDC in March without properly ensuring all receive legal screening to prevent human trafficking or return to harm, despite claims made by the agency head, Mark Morgan, at a Senate hearing in June. Read the letter here.
More Headlines:
What Else to Know Today
Grassley, Feinstein Target Methamphetamine Abuse: Sens. Chuck Grassley (R-Iowa) and Dianne Feinstein (D-Calif.) unveiled a measure labeling methamphetamine an "emerging drug threat," and would require the Office of National Drug Control Policy to develop, implement and publish a plan to prevent methamphetamine addiction "from becoming a crisis." Read text of the legislation here.
Eighth Circuit Kills Pharmacy Benefit Manager Law: The Pharmaceutical Care Management Association notched another victory in its legal battle against state laws regulating pharmacy benefit managers when the U.S. Court of Appeals for the Eighth Circuit agreed with the association Friday that North Dakota's statute can't co-exist alongside federal benefits law. The North Dakota statute passed in 2017 is forestalled by the Employee Retirement Income Security Act because the existence of an ERISA health plan is "essential to the law's operation," the court said. Read more from Jacklyn Wille.
More Headlines:
To contact the reporter on this story: Brandon Lee in Washington at [email protected]
To contact the editors responsible for this story: Giuseppe Macri at [email protected]; Zachary Sherwood at [email protected]; Michaela Ross at [email protected]