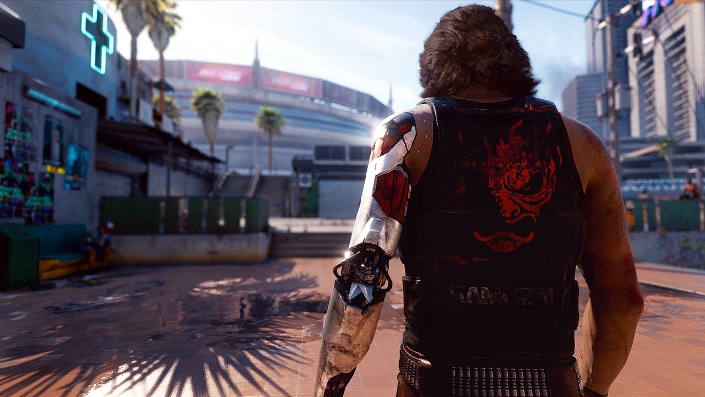 When "Cyberpunk 2077" was published at the end of last year, gamers on the Xbox One and PlayStation 4 consoles in particular had to struggle with numerous errors and technical problems.
An incident that led to Sony Interactive Entertainment's decision to temporarily remove Cyberpunk 2077 from the PlayStation Store. After various major updates that included bug fixes and technical improvements, "Cyberpunk 2077" recently returned to the PlayStation Store.
Developers are planning further improvements
Even if "Cyberpunk 2077" is in the PlayStation Store the hint it was provided that the role-playing game should not be played on the standard model of the PlayStation 4 due to performance problems, the developers at CD Projekt are now satisfied with the state or the performance of "Cyberpunk 2077". The studio pointed this out in a current statement and also noted that the developers are now able to make further improvements or work on features that have been requested by the community.
On the subject: Cyberpunk 2077: The Most Reported Issues
"In this respect, we have reached a satisfactory level", stated Adam Kiciński, the CEO of CD Projekt at the "WSE Innovation Day Conference". "We have also worked on improving the basic quality, which we are also very happy about. Of course we have also removed bugs and visual errors and we will continue to do that in the future. Over time, we will also introduce optimizations to the general game systems that have been highlighted by the players. "
"Cyberpunk 2077" is available for the PC, the Xbox One and the PlayStation 4 and, thanks to the backward compatibility support, can also be played on the new generation PlayStation 5 or Xbox Series X / S systems. Extensive technical upgrades for the new consoles will also follow in the course of the year.
The next-gen upgrade has not yet been given a specific date.
Source: Videogame chronicle
More news about Cyberpunk 2077.
Links to Amazon, Media Markt, Saturn and some other retailers are usually affiliate links. When we make a purchase, we receive a small commission that we can use to finance the page that can be used free of charge. You have no disadvantages.