[ad_1]

NFTs
Cicero Spin is a self-taught Brazilian mix-media artist with a passion for beauty, high contrast color palettes, optical illusions, codes, automatic processes and pop culture. His artistic name, Cicero Spin, is actually a portion of his full name, a long one, rooted in Portuguese traditions. Often mixing digital and physical props, his preferred themes tend to orbit around pop culture and my admiration for languages and science.

When did you first start creating art and how did that evolve into becoming a professional artist?
The very first time I signed a piece with the true feeling I had done a "real piece of art" was circa 1983, I was ten. I was impressed with sunflowers, my father had told me basic scientific aspects of their pursuit of sunlight and my mom had showed me pieces of art depicting vivid sunflowers, mostly Van Gogh's. In fact, because of the importance of this moment in my life as a starting point for my desire to do my own art pieces, I chose to use this piece – my sunflower field kid's drawing – as background in two of my NFTs for the genesis NFT project of SaatchiArt, "The Other Avatars".
As time passed by, that feeling to make my own art became almost unbearable, it turned into an urgency and I had to do it. At that point, I already had achieved all the goals I had planned for my life professionally, completely outside of the art world; I had not dedicate myself to art but a few "creational bursts" here and there. That growing desire was not only urgent, but also very profound and a hobby would not suffice. So I decided to embrace the challenge of become a full time artist, facing more the fears of being misunderstood because of my choice than the technical part of it, which challenges are, on contrary, source of much joy for me.  I became obsessed with studying techniques and learning all I could about the art movements I love. Then, in June 2013, I came up with my artistic name, which for me has the value of an expression meaning "the way of Cicero", as a reminder of my father's father, a very brave man. That month I did my first "official" artwork, a digital manipulation of a photo I took of the now gone Domino Sugar Factory by the East River, when on vacation sometime before in NYC. Slowly but surely it became a daily basis practice.
What does your artistic practice look like today?
Every day I work at least in one aspect of my art practice, if is either the commercial, the study or the proper painting work. I draw inspiration from vintage ads, worn street posters, old comics, old movies, music and popular culture in general. Inside those "boards of visual interests", I usually extract value from what resonates with my love for beauty and curiosity for languages and science. In the studio, I surround myself with music – a kind of "visceral source" of inspiration for me – bouncing between the likes of Billie Holiday and Czarface or Yngwie Malmsteen and Vivaldi. Music fills me with energy and poetry. If you spend a week with me, you will see me making my own supports out of office-discharged paper and old books pages glued together or over textiles. You would see me painting physical backgrounds (which I also use in digital pieces) and working on the digital creation of subject matter and cutting stencils or finalizing one particular piece I was working on. I often have one of those "creative bursts" and do all this in one day. Today the space in my studio is more limiting to my practice than my will to create (I have this feeling that I will always lack space). You can imagine how great the crypto art movement is for me as a way to expand my creations as I cannot move to a bigger space to make more physicals.
What interests you about NFTs and why did you choose to be involved in this project?
For me, NFTs are awesome tools that allow artists to reach a broader market through a smart-contract process that ensures perpetual and fair returns for their effort to create valuable art. The amazing consequence is that this applies to every sale, giving birth to a vibrant secondary market which is much less restricted than the traditional art market, but still thrives and prospers. I am a proud participant of The Other Avatars Project as it is the first NFT project of this world-renowned online art gallery, the one I love to be part of and trust for handling my sales around the world.
Can you tell us a bit about how you approached this project?
For this project I thought to bring a positive view of Van Gogh as a person who had a trouble interacting with people in his time but whose art not only speaks deeply to most people to this day. I tried to address that by focusing in a funny/cool subject matter approach for the artist's self-portraits and using vibrant color compositions.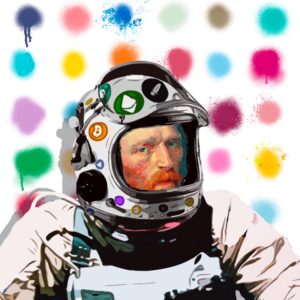 How was your personal style and approach to your art affected by the subject and conditions of this project? How did the experience compare with what you'd initially expected?
I expected much fun and indeed enjoyed myself from start to finish. I love to do portraits of Van Gogh, and have quite a few available in my Saatchi Art portfolio. My biggest challenge was to embrace the fact that my personal style needed some adjustments for this project since it tends to include some merging of subject matter into the background making it stand out less, either by being proportionally smaller and/or by being transparent.  I had difficulty adjusting the proper size of subject matter to suit the project's conditions or "Too Much Torso Syndrome" as I called it once I realized I was persistently making my VGs smaller than the adequate. I moved on and am very satisfied with my final pieces; it was a well-spent, pleasant time!
What advice would you tell new artists that are interested in starting to create NFTs?
Learn about crypto and be "non-fungible": let your artworks be as unique as you are.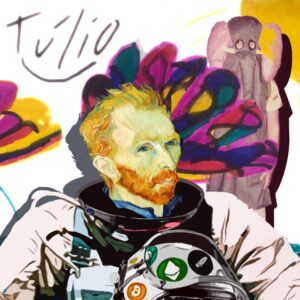 What would you want collector to know about your work? Or The Other Avatars?
If you love beauty and enjoy being surrounded by art that inspires a good mood in your day-to-day life, visit the The Other Avatars project in OpenSea and my gallery in Saatchi Art's website!
Love reading about all things art? You can have articles from Canvas, curated collections, and stories about emerging artists delivered straight to your inbox. Sign up for the Saatchi Art Newsletter.


[ad_2]

Source link